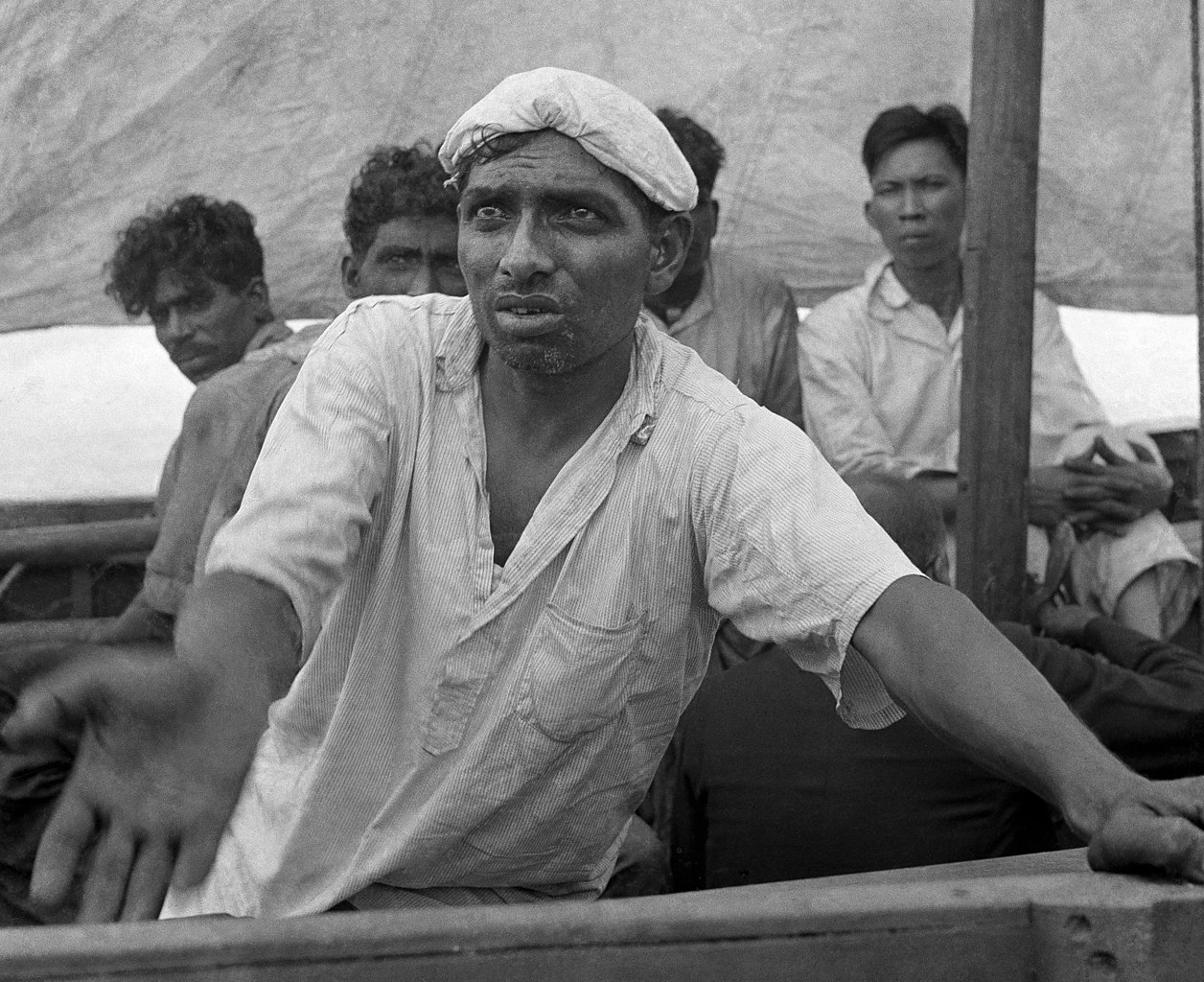 Frank Noel received a Pulitzer Prize for his 'Water!' photo in 1943. It was a second Pulitzer prize awarded in a Photography category. The first one went to Milton E. Brooks for his 'Ford strikers riot,' a year before. This Pulitzer category existed from 1942 till 1965.
A dangerous photo adventure of Frank Noel
The 'Water!' picture has a fascinating story behind. Frank Noel captured Water!  photo in January 1942, when he was working for United States Army Air Corps as a photo reporter in Singapour. At the same time, Noel was a member of the Associated Press that directed his activity and published his pictures. 
By the beginning of January 1942, the US forces had already entered WW2. Japanese aircrafts put a lot of pressure on allied forces across all the Pacific Theater of WW2. They started bombarding the city of Singapour, preparing the land invasion.
British troops were the only allied force in Singapore on that month. Allies failed the start of the Pacific War and didn't manage to keep the key positions. Here's why Brits were preparing the evacuation. Meanwhile, Frank Noel had contracted malaria and thus couldn't follow the UK forces. Commander ordered his removal to the United States. Unluckily for Noel, the Japanese torpedo struck the freighter he was traveling in. The ship was sinking in the Indian Ocean, and Noel managed to escape and board a life vessel with 27 survivors. The rumor has it that Frank Noel bribed the British guard to get this vessel.
Water's everywhere and nothing to drink
Frank Noel's vessel floated aimlessly for five days. The air was hot and moist; it was hard to survive it. During the sail, another lifeboat with survivors approached their vessel. All these victims of Japanese torpedo attacks were suffering thirst. Both lost their water supply in a rush to leave from the sinking boats. One of the sailors stretched out his hand and begged for water. Frank Noel pressed the shutter and captured his Pulitzer-winning photo. But he had no water to offer.
Later during WW2, Frank Noel reported the Malayan Campaign, Burma, and India for the Associated Press.
Interestingly, that Pacific Theater of WW2 started and ended up with Pulitzer-winning photography. While 'Water!' image captured the first weeks of conflict, The flag-raising on Iwo Jima symbolizes the end of the campaign.
Check out the stories of other outstanding Pulitzer winning photography: 
The Saigon Execution by Eddie Adams