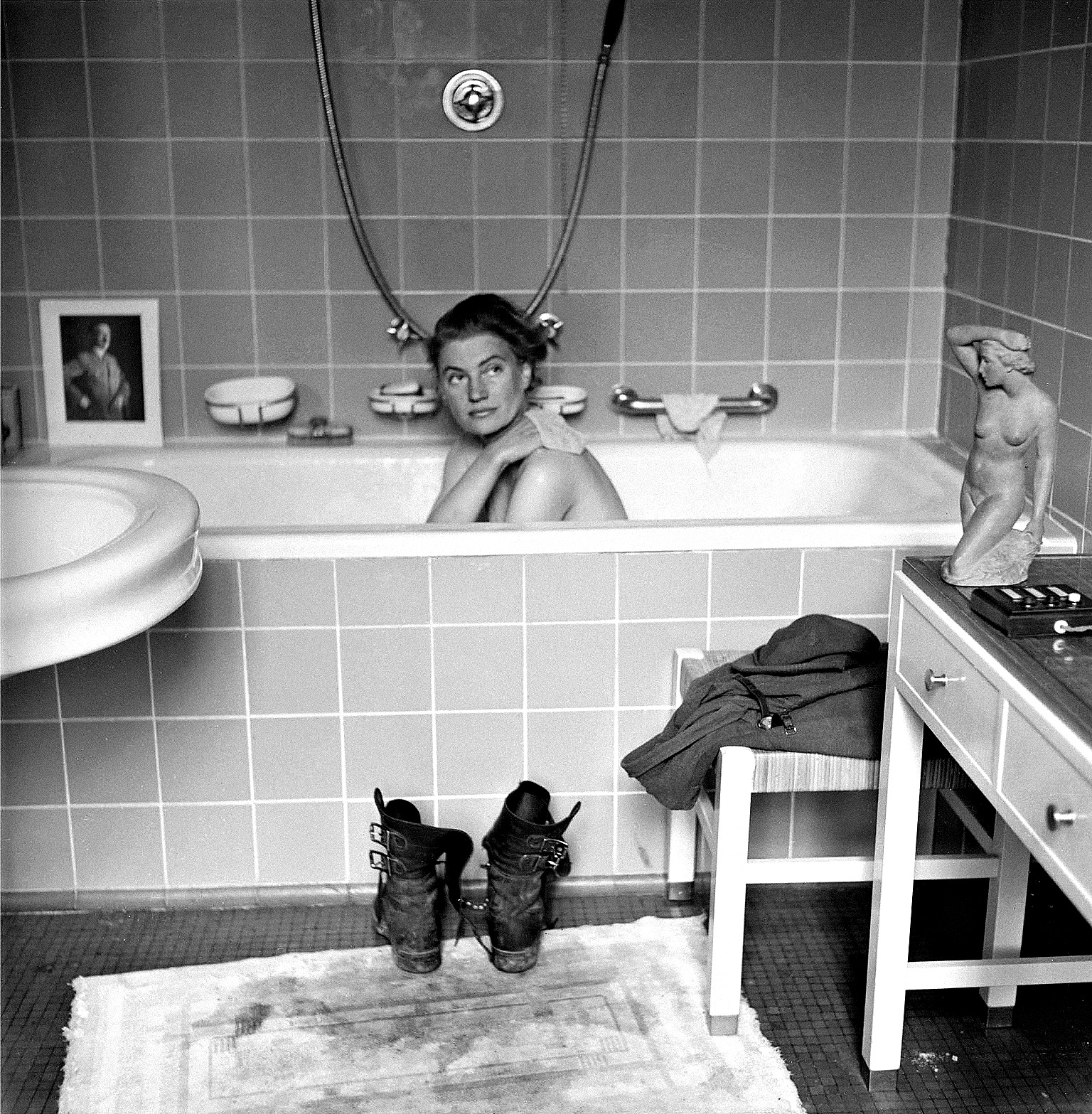 Somehow this photo of former-model Lee Miller in Hitler's bathroom is one of the best-known WW2 photography. Its story is noteworthy, though. Photographers Lee Miller and David Sherman worked together during WWII. Miller shot for Vogue, Sherman shot for LIFE. They participated in the liberation of the Dachau concentration camp. The very next day, photographers entered Munich together with the 45th American division. Precisely speaking, Lee Miller didn't shower in the secondary apartment of Adolf Hitler, which he used during his trips to Bavaria.
"Lee and I found an elderly gentleman who barely spoke English, gave him a box of cigarettes, and said, 'Show us Munich,'" Sherman recalled in a 1993 interview. "He showed us around Hitler's house, and I photographed Lee washing in Hitler's bathroom."
Lee Miller moved from the apartment of Hitler to the mansion of Eva Braun
Miller and Sherman lived in the apartment of Adolf Hitler for several days. After that, they even squatted in the house of Eva Braun, which was located nearby. 
The photo of Lee Miller taking a bath in the Fuhrer's apartment caused a flurry of indignation. Many considered the photographers' behavior unethical. Lee Miller's son, Anthony Penrose, commenting on the image, said: "Her boots covered in Dachau mud are on the floor are. She says she is a winner. But what she didn't know was that a few hours later in Berlin, Hitler and Eva Braun would kill themselves in a bunker. "
Many people noticed that Hitler decorated the bathroom with his own portrait and a classic statue of a woman. The New York Times described the photograph as "A woman caught between horror and beauty." However, some researchers have interpreted the image more deeply, arguing that there is no single accidental detail in it. The pollution of Hitler's bathroom with Dachau dust was a deliberate act. The Sherman bathing photographs in the same bath, taken by Lee Miller, are also symbolic since the photographer was a Jew.
Commenting on the photos, Miller said she was trying to wash off the Dachau scents.