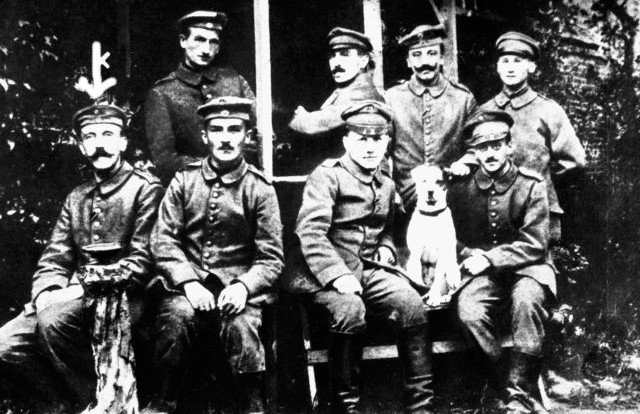 We all know Adolf Hitler for the horrors of the holocaust and the terrifying destruction of WWII. But here's an interesting one: Hitler started to build his courageous reputation during WW1. He served in the German army from the first weeks of the war, earned some honor and invaluable life experience that influenced his future. Noteworthy, that all significant leaders of that period didn't dodge the military service. Young Winston Churchill participated in the bloody campaign in South Africa; Joseph Stalin commanded a large number of troops during the Civil War in Russia.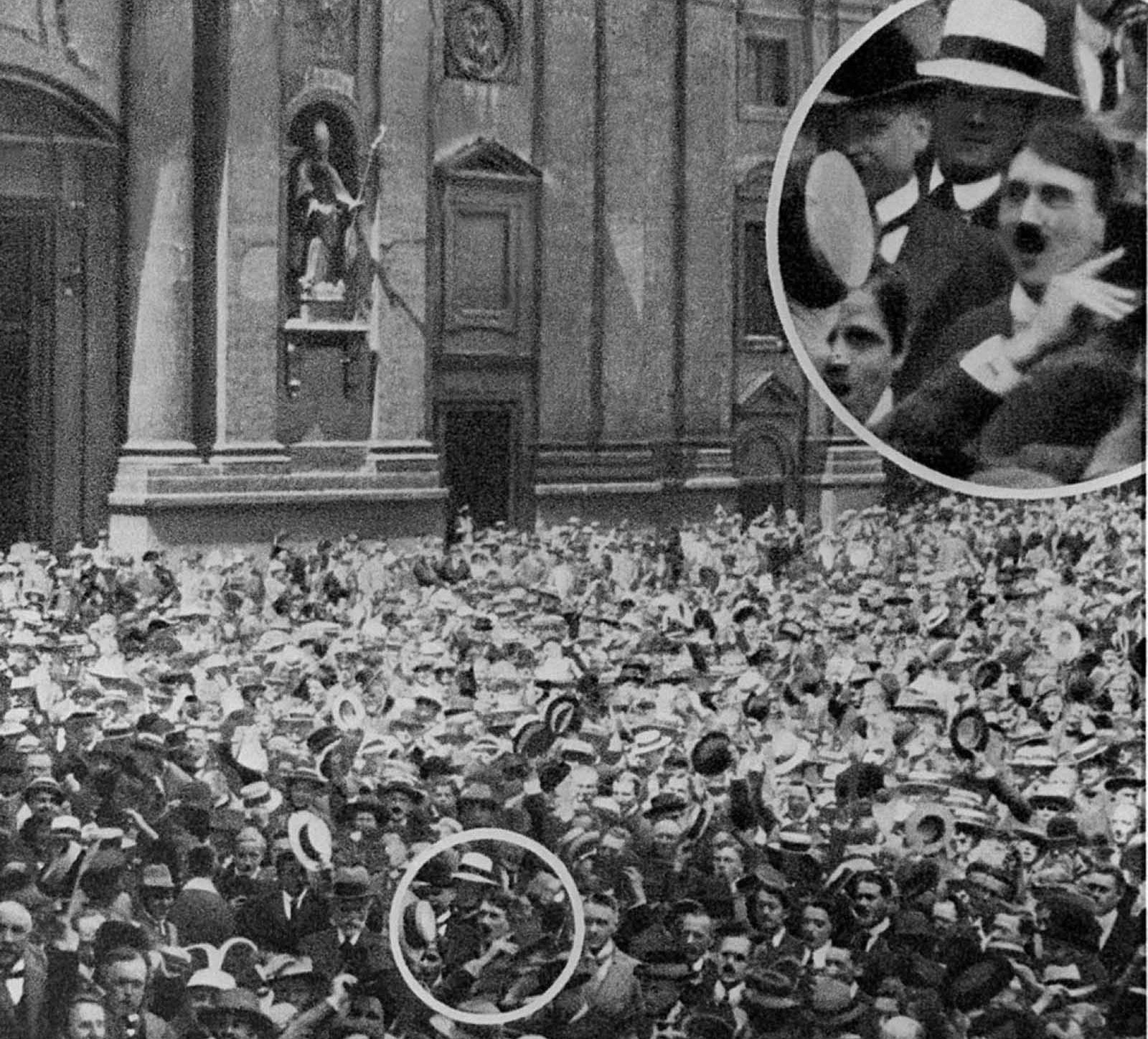 Hitler Before the WW1
It's safe to say that Adolf Hitler was a mediocre personality before WWI. His parents were typical representatives of the middle class in the Austrian Empire. Young Adolf didn't use a chance to start any decent career in pre-war Austria and relocated to Germany. Hitler positioned himself as an intellectual Austrian Empire's German elite but never found any way how to make money with this mindset. Historians claim that Adolf selected that military career will fit him best. And the main reason why Hitler preferred the German army service to Austrian was a reluctance to serve alongside Czechs, Croats, and Jews, whom he disliked.
Fake photo start
This photo appeared in various samples of german propaganda during the 1930s. It showed how close Adolf Hitler was with ordinary people before WW1. Munich photographer Heinrich Hoffmann took this photo at a demonstration in support of the war against Russia in Munich's Odeonsplatz on August 2, 1914. Nevertheless, various historians doubt that it was a real photo with Adolf Hitler. They state that Hoffmann handled the image to highlight the soon-to-be-dictator. While the original negative of this picture was lost, it's hard to prove if it was real. Other photos of that period show Hitler with a more massive mustache. The fashion of shaping facial hair down to a "toothbrush" is linked to the wearing of gas masks. Tiny mustache allowed to wear gas protection more comfortably; Taking to account the history of gas masks usage, we may conclude that it was unlikely that Adolf Hitler could have a tiny mustache in 1914.
Like a local Bavarian
Hitler had avoided the Austrian enlist for nationality reasons mentioned above. At the same time, he didn't miss a chance to join the Bavarian army. Thus we cannot accuse Hitler of acting cowardly.
By the way, while being a part of Germany, Bavaria secured its independent army. The Austrian-born Adolf Hitler requested the right to join that army. On August 16, 1914, he entered the barracks of the 16th Bavarian Reserve Regiment.
The Massacre of the Innocents
It didn't take to long for Hitler to get into the real WW1 massacre. During the first couple of months, he participated in the most horrible battles the German troops encountered.
In October 1914, German and British divisions expanded the front line, as they rushed to close the gap between their positions and the sea. Reserve armies, including the 16th Bavarian Reserve, relocated to Ypres.
In late October, those units assaulted the exhausted but experienced veterans of the British Expeditionary Division. The fresh German recruits experienced a terrible defeat. The 16th engaged in an encounter with 3,600 men. Only 611 unwounded survivors left in just five days. In two weeks, Hitler's platoon of 250 soldiers was down to 42.
The losses were devastating. Those young men who survived called this battle the Massacre of the Innocents.
But Hitler proved himself as a brave soldier. He got a promotion to lance-corporal and recommended for the Iron Cross Second Class.
Military and Social Promotion
While serving in Bavarian Reserve, Hitler felt happy for the first time in his life. It was a perfect chance for social progression.
Hitler obtained a decent amount of medals and honor during the rest of WW1.
There's no surprise that every german who served with Hitler told about his bravery. Please note, that many of that memoir dated earlier than Adolf Hitler took power in Germany. His former officers remembered him as a "reckless attacker" and "honorable nature." Well, WW1 discovered the best sides of Hitler.
Hitler served as a runner, communicating messages back and forth between the trenches and commanders. His political opponents used this fact to undermine his reputation. They said he had not faced the risks of the front line, and he wasn't in the trench during french raids. In fact, they were wrong.
Messengers did not participate in the bloody trench onslaughts. But they didn't take a rest a stay safe at the same time. Artillery bombardments, gunfire, and gas, could finish the runners' life immediately. For example, three out of the eight messengers in Hitler's unit were killed and a fourth severely wounded during the first couple of days of real action.
Bapaume wound
Hitler was wounded several times during WW1. The battle near Bapaume in 1916 caused the most severe damage to his health. The fragment of shell immobilized his leg, and Adolf had stayed behind. He couldn't leave the battlefield without assistance on that day. The wound was so bad that recuperation took long five months.
Hitler spent all WW1 time on the West Front, from October 1914 to October 1918. They're not so many combatants with greater war hours count. But Hitler liked his WW1 experience. He spoke about it as it was the greatest of all adventures. Being part of something greater, serving with personalities he admired, it was a powerful life action for a young man.
Hitler never thought that WWI was a historical tragedy of humanity. It was a heroic battle that he participated in with comrades, and essential in a way his civilian life had never been.
The End of the War
Hitler spent several months on the quiet lines near Alsace. The rest of the war he served near Ypres. It was the snowiest, swampiest, most violently contested area of the front.
Heavy shelling, non-stop machine gun fire, and trench attacks became a daily routine. Hitler's division encountered in the battles of Ypres, the Somme, and Arras – fights recognized with horror for their cold desolation and terrible losses.
On October 13, Hitler was in the Avangard trenches when the British started a gas attack. The gas flowed unnoticed into his burrow overnight. At dawn, he traveled toward the corps base with a note. The gas blinded Hitler, and he denied any try to hospitalize him.
An honor for courage
Hitler's war experience was remarkable. In four years of service, he took part in twelve battles and twenty-five other stints of trench duty. 
The war developed military Hitler. The worst horrors of war were somehow linked with the best days of his life.