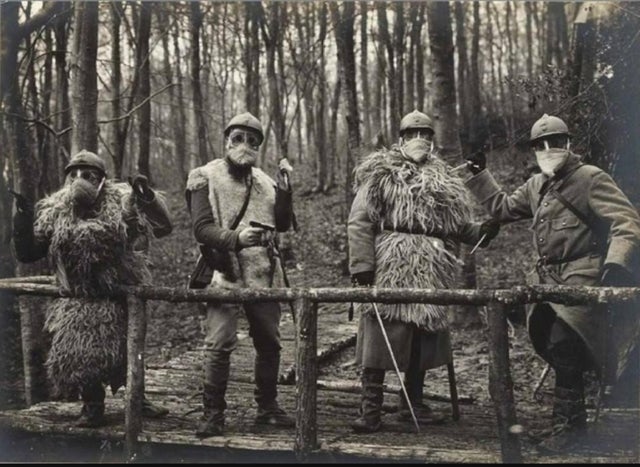 Yes, if you wanted to survive WW1, you had to wear gas masks. Even if you're french commandos, the so-called trench raiders. The trench raiders usually used knives or light weapons during their missions. They are wearing gas masks and camouflage and never used signs of the French army. Those die-hards used german crosses and uniform elements instead. Their goal was to come as close to the enemy's trench, get inside and stab as many opponents as possible. Surprisingly, but theirs WW1 gas masks served a crucial role in survival. The German war protocol strictly prohibited the wearing of gas masks during the action. It was forbidden to take them off, and the officer couldn't order so while in a trench. When the German officer had an urgent need to see the soldier's face, he had to take him off the trench and take the mask off in a safe place. Here's how trench raiders had a chance to disappear in the trenches while doing their risky job.
Why combatants need gas masks during WW1
Germans were the first to realize the efficiency of the gas attacks, but other countries followed them very soon. The very first german forces used chemical shells on April 22 versus the french division. Russian forces faced the green gas threat on May 31, 1915. A greenish cloud that appeared above the trenches at about 3:30 a.m. was mistaken for a well-known smoke screen, usually followed by an attack. Therefore, reserves tightened around the front line, and the forward line as crowded as possible.
Two Russian regiments were virtually destroyed as a result. Losses included 16 officers and 3147 soldiers. Total casualties on the entire front sector hit eight thousand.
All sides of WW1 widely used gas attacks until the last days of the war, due to their effectiveness. Here's why gas masks were the only way to survive for infantry, civilians, and even animals during the war action.