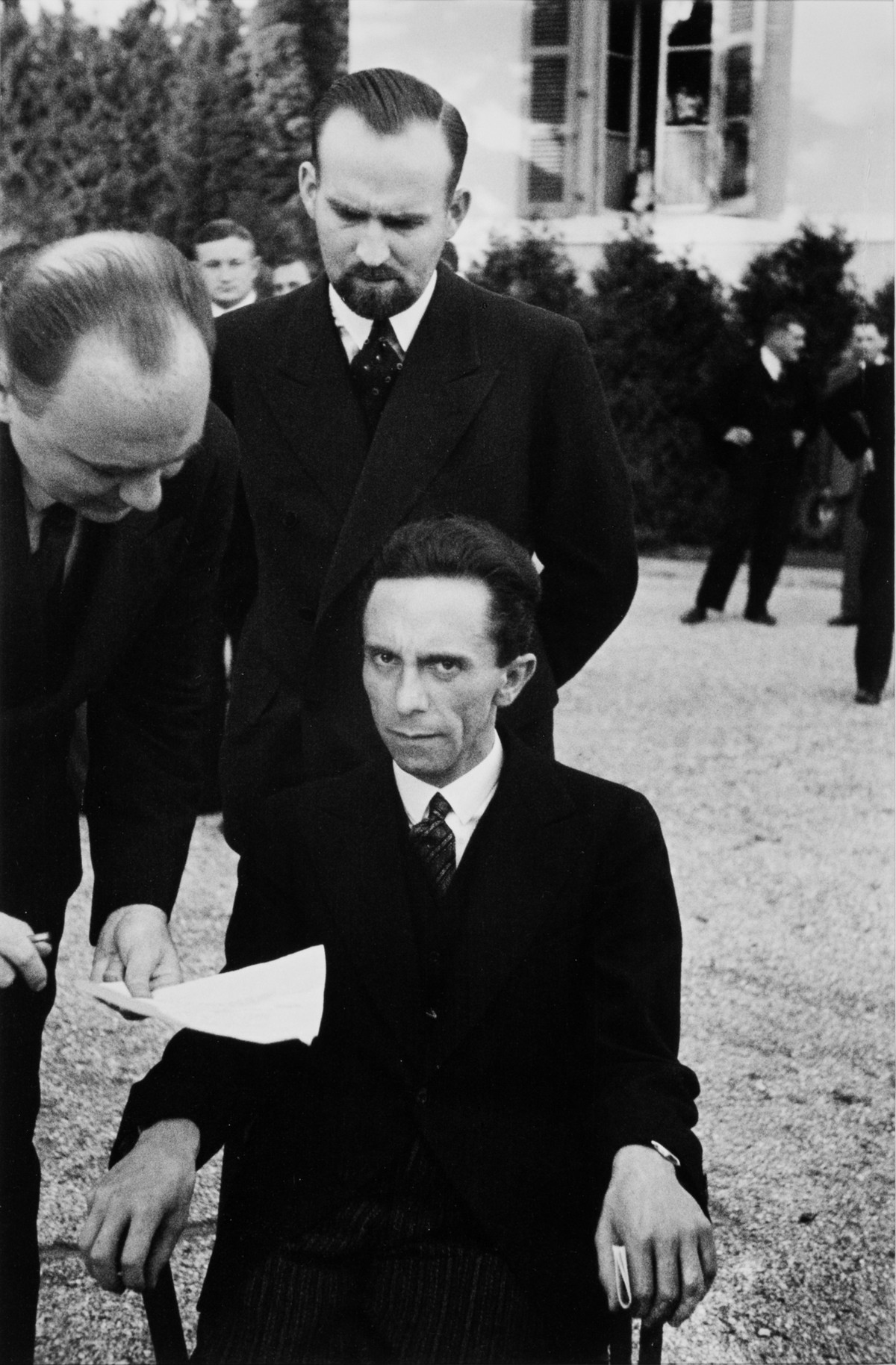 'Eyes of hate' is one of the iconic photos of the outstanding Germany-born photographer Alfred Eisenstaedt. Oldpics published his 64 of his most important pictures recently. 'Eyes of hate' photo stands among the others, and we decided to cover the story behind it.
The historical background
So, let's get back to September 1933. Adolf Hitler has already taken all the power in Germany after winning the elections in January. The 3rd Reich has been proclaimed, the anti-jew and militaristic rhetoric became the mainstream. 
Alfred Eisenstaedt worked for the Atlantic (it will soon transform into an Associated press) agency as a photo reporter. Here's how he got accreditation to cover the League of Nations conference in Geneva. The place where Eisenstaedt captured the 'Eyes of hate' photo.
Facing the eyes of hate
"I found Dr. Joseph Goebbels In the hotel garden. By that moment, he has already occupied the position of Hitler's propaganda minister," Eisenstadt wrote in 1985.  Goebbels was smiling, but not at me. He was looking at someone to my left. Suddenly he noticed me, and I took a picture of him. His expression changed immediately. These were the eyes of hate. Was I the enemy?' Goebbels' personal assistant Werner Naumann, with a goatee, and Hitler's translator, Dr. Paul Schmidt, were standing behind him. We assume that one of them told the propaganda minister the photographer's identity. "People asked what I felt taking pictures of these people. Of course, I wasn't ok, but I do not know fear when I have a camera in my hands. "
Goebbels' hostility towards the Alfred Eisenstaedt was due to his Jewish origin. The minister's tense posture and a suspicious gaze directed directly at the camera clearly indicate Eisenstadt's dislike. The propaganda minister truly shared the antisemitic views of his patron, Adolf Hitler.
The alternative name
"I could name this picture 'From Goebbels with Love,'" the photographer continued. -When I approached him in the hotel garden, he looked at me with eyes of hate, as if he was waiting for me to disappear. But I haven't disappeared."
A couple of weeks later, Germany, quite the League of Nations, explaining that other countries discriminate against it. In fact, this meant Germany's unwillingness to make compromises. It also testified to the League of Nations' further ineffectiveness in resolving international disputes and preventing war conflicts.
Interestingly, Alfred Eisenstaedt captured his best-known 'V-J day' picture in 1945. It became the symbol of WW2 victory. While Joseph Goebbels ended his days committing suicide in May 1945.