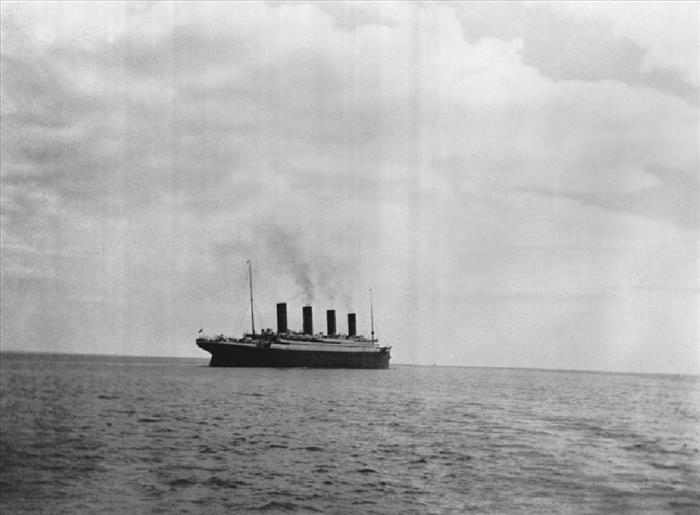 This historic photo of RMS Titanic is the last picture of the vessel on the surface of the ocean. Titanic departed Southampton and was pictured while passing Crosshaven, Ireland. Yes, it wasn't "direct flight" and even large vessels used to stop in Ireland's ports before leading their way towards the Americas. Just three days after this photo was taken 1,514 people would be dead and the Titanic would be on the bottom of the North Atlantic after colliding with an iceberg. The sea history knows very few occasions which were deadlier than titanic. Now take a look at some Titanic history photos.
Here're some facts about the Titanic and some rare photos of the vessel.
Fact#1. Ticket classes had separate decks with different numbers of lifeboats. Passengers traveling first class on Titanic were roughly 44 percent more likely to survive than other passengers due to the high number of lifeboats and "seating prioritization" during the evacuation.
Fact#2  The number of lifeboats on the Titanic could save just 1,178 people. The vessel by design could take up to 2,435 passengers and a crew. In fact, there were 3,300 people on board, and when the unsinkable ship began to sink all these "extra passengers" were doomed.
Fact#3 There were 3 classes of tickets on Titanic. Statistically, the lower class was the lower percentage of women who survived, despite the approximately equal man\women ratio for each class during onboarding.
Fact#3 The wealthiest passenger was John Jacob Astor IV, heir to the Astor family fortune, who had made waves a year earlier by marrying 18-year-old Madeleine Talmadge Force, a young woman 29 years his junior, shortly after divorcing his first wife. Astor deposited his wife Madeleine into a lifeboat and, remarking that she was pregnant, asked if he could accompany her; refused entry, he managed to kiss her goodbye just before the boat was lowered away.
Fact#4 The cheapest ticket on the Titanic cost a bit less than $20. There were around 400 passengers who paid this amount to travel to New York.
Fact#5 This was a destiny sign during Titanic's departure from Southampton. There was a fire that occurred in coal storage. It was a common issue for the steam sailing of those years, but sailors believed coal fire was a bad sign.
Read more: Historic friendship of Frank Sinatra and John F. Kennedy
Fact#6 The seamen who witnessed the collision didn't actually feel it on the deck. They were relieved, thinking that ice mass was too low to bring harm to Titanic. They had no idea that the iceberg had its major spur underwater, which ripped a 300-foot gash in the hull below the ship's waterline.
Fact#7 Captain did a quick calculation and estimated that Titanic might remain afloat for an hour and a half, perhaps slightly more. S.O.S.'s message was sent at this moment. In fact, Titanic stayed afloat for close to three hours.
Fact#8  706 people survived the sinking of the Titanic