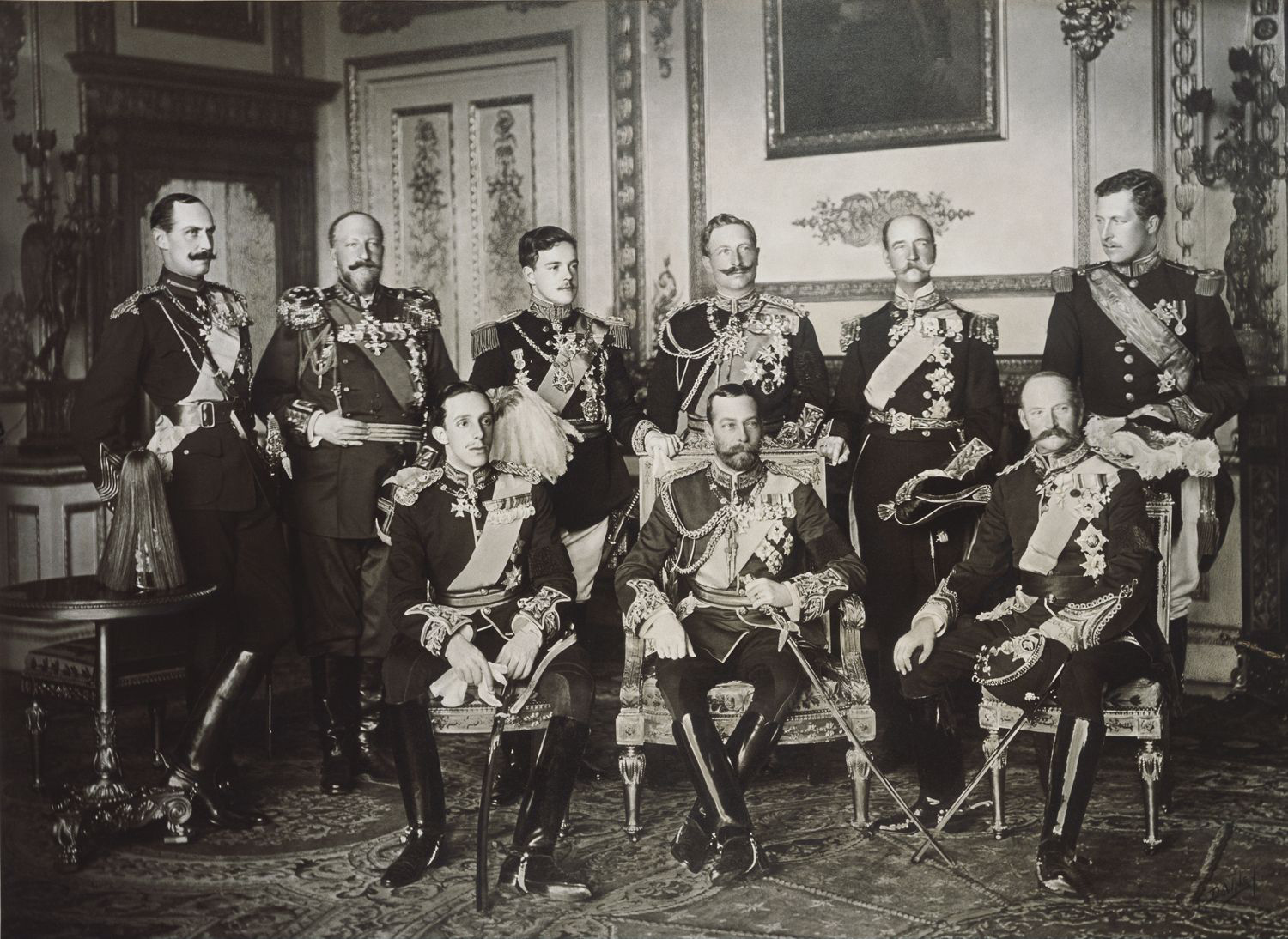 Ironically, these nine kings will be at war (WWI) less than five years after this photo was taken.
Nonetheless, there was no high tension between monarchs on May 20, 1910. On this day, masters of the W&D Downey photo studio took this historical image of Nine European Kings at Windsor Castle.
They never gathered together before this day.
Standing: King Haakon VII of Norway, King Ferdinand I of Bulgaria, King Manuel II of Portugal, German Emperor and King of Prussia Wilhelm II, King George I of Greece, and King Albert I of Belgium.
Sitting: King of Spain Alfonso XIII, King of Great Britain and Ireland, George V, and King of Denmark Frederick VIII.
Nine Royal relatives in a photo
There was a reason for all these nine kings to pose for a single photo. All of them were connected with family bonds. For example, Frederik VIII of Denmark (sitting, far right) was a daddy of Haakon VII of Norway (top left). The German ruler Wilhelm II of Germany (top, 3rd from the right) was a cousin of both George V of the United Kingdom (bottom center) and Queen Maud of Norway, who was wife to Haakon VII of Norway and sister to George V of the United Kingdom. Let's not forget that Haakon VII of Norway and George V of the United Kingdom were brothers-in-law. George V of the UK and Queen Maud of Norway's mother was incidentally Alexandra of Denmark, sister to Frederik VIII of Denmark. Here's how Frederik VIII of Denmark was also the uncle of George V of the United Kingdom.
Again, George was a grandson of Queen Victoria and Prince Albert and the first cousin of Russian King Nicholas II of Russia and Kaiser Wilhelm II of Germany. By the way, Nicholas II also could be present in this photo, but he didn't manage to come in time. 
What will happen to the Nine Kings after this photo
All these elegant and brilliant representatives of their dynasties came together to send off the last journey of the English king Edward VII. They do not yet know what awaits them in the very near future.
The revolutions and social transformations will remove four of nine of these monarchs. One of them will be killed (George I of Greece was shot in March 1913 in Thessaloniki).
In less than five years, Britain and Belgium will fight side by side against Germany and Bulgaria in WWI. Peter of Serbia (another king missing in this photo of the nine) will fight on King George's side.
Only five of these nine monarchies will survive Norwegian, Spanish, English, Danish, and Belgian.