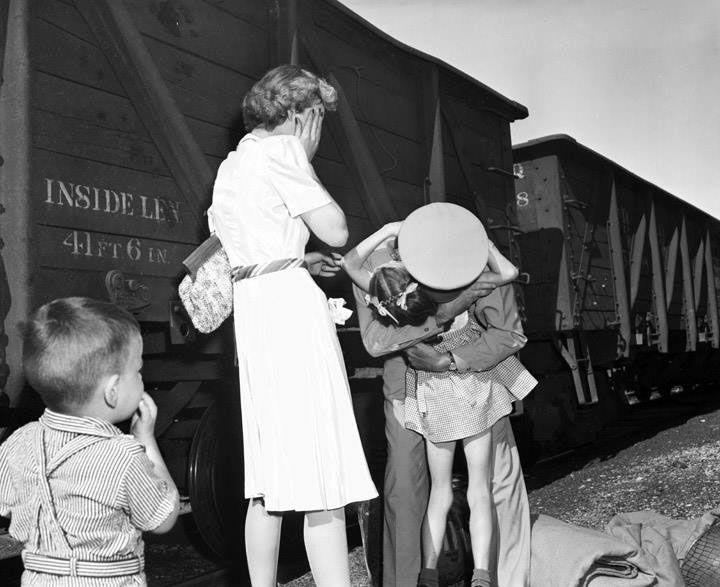 Earle Bunker found himself among Pulitzer Prize winners in 1944 for his photo 'Homecoming'. Here's an interesting one: 1944 was a special year in the Pulitzer award history. Two photographers received the prize in the Photography category that year. Usually, there was only one winner. The second winning picture was Frank Filan's "Tarawa Island."
Before winning 'Pulitzer', 'Homecoming' image originally appeared in The Omaha World-Herald's. Bunker captured the Homecoming scene in Villisca, Iowa, on July 15, 1943.
The scene is extremely heart touching and it's the oldest con in the book. Lieutenant Robert Moore is returning home for a short vacation during his army service. His wife, Dorothy Dee Moore, and daughter Nancy, 7, are greeting their daddy. A boy standing left is Moore's nephew Michael Croxdale.
'Homecoming', a classic scene of joy
The joy of meeting coming back soldiers is nothing new, but it always a source of positive emotions. Maybe it was a reason behind the Pulitzer Jury decision in 1944. People of the US demanded some positive news during grim WW2 days.
Earle Bunker's 'Homecoming' photo shares the same emotions as 'V-J on Time Square', that celebrates the end of the war. In the case of 'Homecoming', it's only a few-day pause in service.
Earl Bunker and Frank Filan joined a company of Frank Noel and Milton E. Brooks who received a Pulitzer Prize in Photography category before.
It turns out that the Pacific Theater of WW2 started, carried on, and ended up with Pulitzer-winning photography. While 'Water!' image captured the first weeks of conflict. The 'Homecoming' and 'Tarawa Island' images capture the different aspects of the mid-war years. The setting flag on Iwo Jima symbolizes the end of WW2.
Check out the stories of other outstanding Pulitzer winning photography: 
The Saigon Execution by Eddie Adams
A bloody execution during the Iranian Revolution