These photos of The Korean war (1950-1953) carry all pain and suffering that the people of Korea lived through. This had little distinctions among other conflicts, but in addition to everything else, it tore a country apart, splitting it between communist and democratic worlds. And humanity has yet to cope with consequences of that historical events, to unite peoples of two countries into one.
Media widely covered the Korean war, and thus we have lots of photos to show different aspects of military actions. We tried to compile a grim uncertainty of soldiers that departure to the war zone, the harsh routine of day-to-day service and rare moments of human joy and kindness, that also took place.
Read more: Timothy Robinson and his letter from war, Vietnam, 1968
Even though war called Korean, it wasn't only the stand between the pro-communist and pro-democratic parts of the people of Korea. International coalitions supported both parties: North Korean was assisted by USSR and China (PRC), while the Southern counterpart aligned with 20 countries led by the USA. 
US Marines trying to survive artillery attack, during the Chinese offensive operation near Chosin Reservoir, North Korea. December 1950
An ambulance driver from the Indian Army clenches his hands, indicating the intense pain in his leg which has been almost completely blown off, 1951
USS: Iowa bombards North Korean troops during the Korean war. 12-inch shells are in use. Circa 1952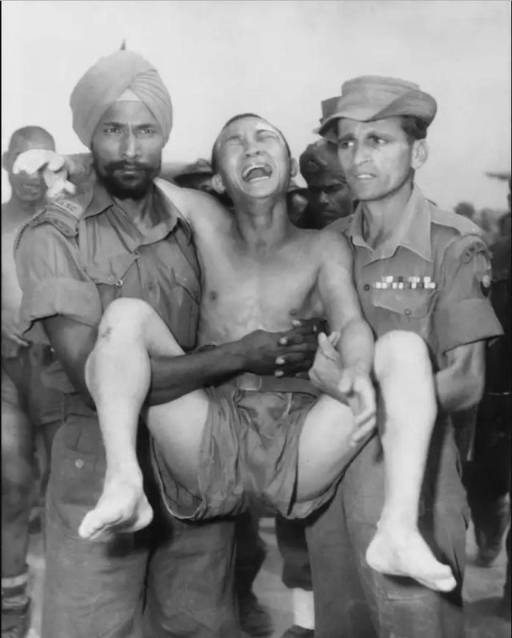 Two Indian soldiers are carrying a weeping Chinese POW to the exchange point in Panmunjom, North Korea, for return to the Communists after the Korean War in the early fall of 1953. He was among 65 Chinese soldiers who asked to repatriate them to their homeland. The rest of the Chinese combatants (thousands of) asked to keep them in Southern Korea.
A wounded Turkish soldier kisses the hand of American General Matthew Ridgway. Turkey fought in the Korean War and suffered the 3rd most casualties after the United States and the United Kingdom. As a result, Turkey joined NATO right after the Korean war.
Refugees of Korean War clamber on to a sabotaged bridge to evacuate, Dec 4th, 1950. Just imagine the sufferings that were brought to these people that forced them to pass this half-ruined construction expecting an artillery attack incoming any minute. 
Read more: A British war photographer during the Crimean War, 1855
Ensign Neil Armstrong, US Navy Reserve, May 23rd,1952. Armstrong participated in 20 combat missions in the Korean War, while he stayed in reserve divisions. Interestingly, reserve combatants were rarely involved in war actions. Usually, it was an initiative of the bravest reservers. After the war, Armstrong will become a research and test pilot, leading to becoming an astronaut and then the first man to walk on the moon.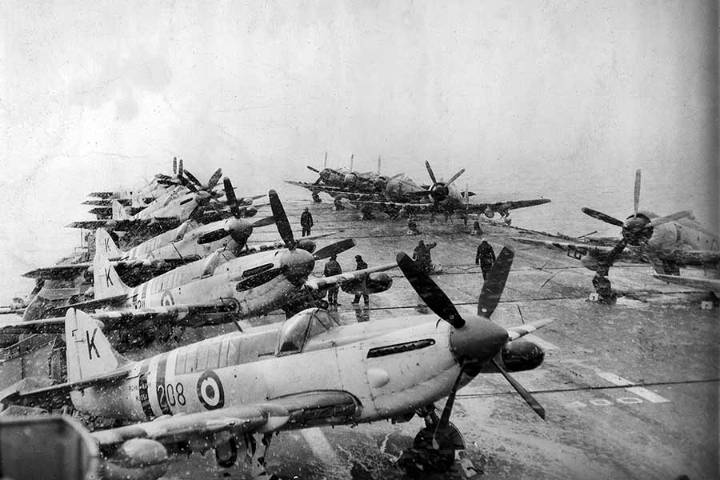 Hawker Firefly's on the deck of the Australian aircraft carrier HMAS Sydney during a snowstorm. Korean War, 1951