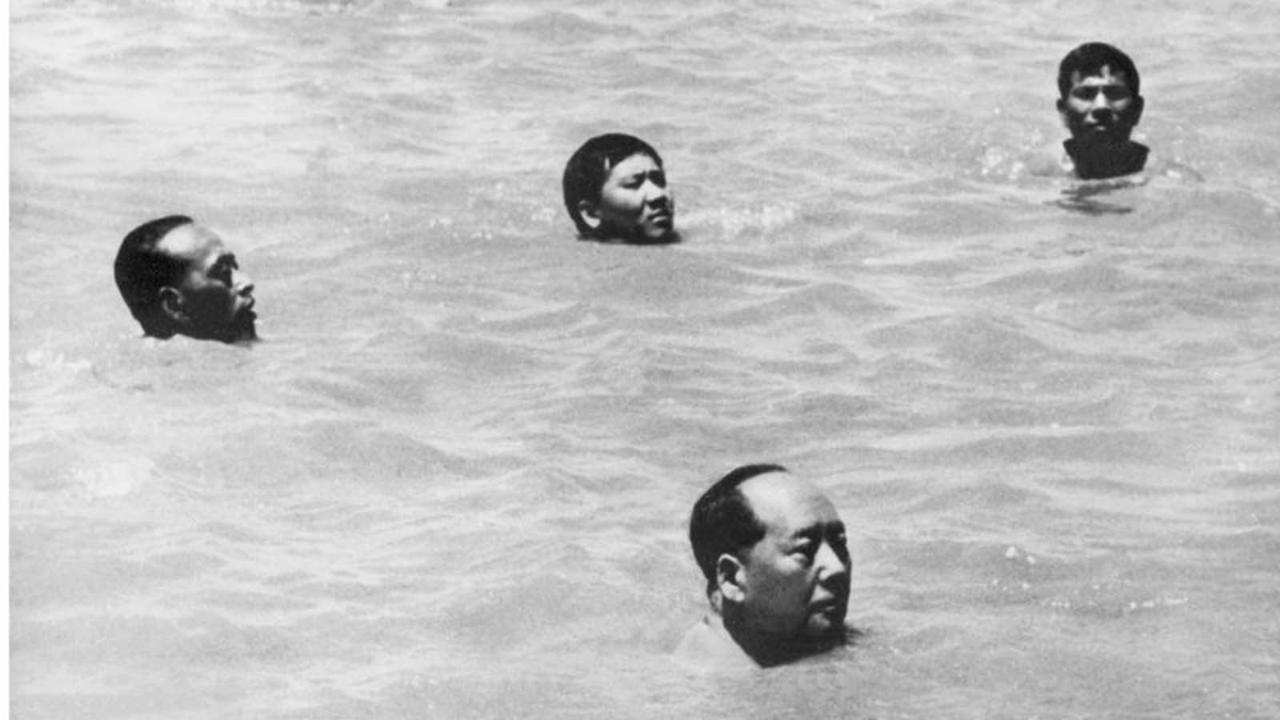 This photo of swimming Mao Zedong, made by his cameraman Lv Houmin, was named as one of the Top 100 most influential images by Times magazine due to its propaganda effect and events which followed this swim.
By July 1966, it seemed that China had lost its revolutionary steam and the power grip of the 72-year-old Chairman Mao  Zedong wasn't so tight. But the Great Helmsman decided to turn the tides with one devastating propaganda move: by participating in Wuhan's 11th annual Cross-Yangtze Competition.
It seemed just amusing fact to the Westerners, but it was a real wake call for the Chinese nation. Five thousand swimmers joined Mao Zedong in competition, and this contest became a propaganda bombshell, reaching out to both locals and going viral around the Globe.
Read more: The history of the Korean War in 34 photos
Mao was swimming, surrounded by six swimming bodyguards. Don't be confused with gigantic photos of himself floating around – it was ok for the communist regimes to honor leaders in this way. Posters on the water asking for 10,000 years of life for Mao personally and his friends and comrades in the Communist Party of China. 
Mao Zedong was swimming for 65 minutes and covered something around ten miles at a decent pace. Pretty good for a 72-year-old man, right.
The historical aftermath!
Mao Zedong came back to Beijing just two days later after this swimming event. Note that the chairman was absent in the capital city for more than a year, which was a result of decreasing Mao's popularity and political crisis. 
The reason for the darkening political skies above Mao was a miserable fail of his 'Great Leap Forward' strategy, which was active in 1958-1962. It had to transform China into the modern industrial economy, but it led to devastation and a famine that killed around 45 million Chinese. 
Read more: Historic friendship of Frank Sinatra and John F. Kennedy
But right after the historical swim Mao got ready to 'attack' his opponents inside the Communist Party headquarters, and initiate a cultural revolution.
What happened next?
After downgrading opposition, Mao declared that his destiny is to create 'great disorder under heaven' so as ultimately to get 'great order'. He relied on various radicals and middle schools, which were sending 'work teams' to restrain everything that opposed the Great Helmsman. The Little Red Book of Mao's sayings was the only dogma that they recognized. Mao planted his ideas into children's and student's minds, setting them to fight both their parents and teachers. Labeling everybody as members of the 'Black Gang', this armed and youngsters plunged China into the six years long bloody political affair which tightened the power grip of Zedong.