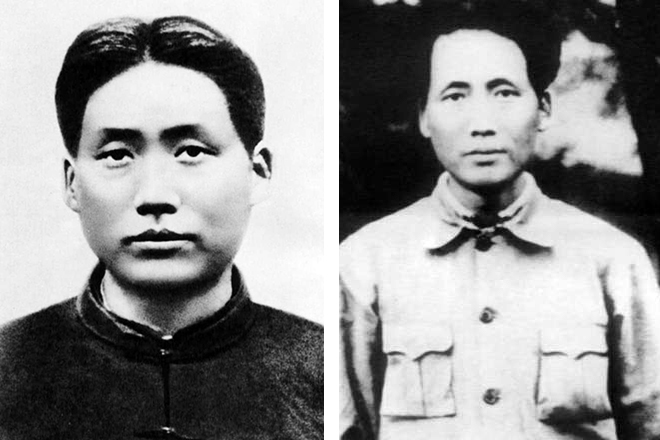 Not so many pictures from the early years of young Mao Zedong lived to our days. But Oldpics has already published old photographs of Joseph Stalin, Winston Churchill, and even some pictures of Adolf Hitler. So we had to find at least some images of young Helmsman – Mao Zedong.
When Communism was a trend
Mao Zedong was born in 1893 and spent his young years in the southern province of China Hunan in the town of Shaoshan. The boy's parents were illiterate peasants. When young Mao Zedong researched the works of the notable political personalities of the past, he abandoned Buddism and switched to atheism.
Overall early years of the young Mao Zedong remind the same period of another communist leader – Joseph Stalin. Both were raised in poverty; both were confident men looking for any chance to change their country. Both fell in love with Marxism.
The revolutionary movement of 1911 was the next tipping point in Mao's biography. The Qing dynasty was overthrown, and he spent six months in the army serving as a signalman. It was a time when young Mao Zedong took great interest in the works of Vladimir Lenin and Communism in general.
Forging history
In 1918, Mao moved to Beijing to work in the capital's library and continue his education. He met the founder of the Chinese Communist Party Li Dazhao and joined CPC.  It was also a time when young Mao met a girl his future wife (the first one) Yang Kaihui.
For the next several years, Mao toured the country. Mao concludes that changing the situation in the country will require a revolution similar to the Russian October coup.
After the victory of the Bolsheviks in Russia, Mao became a follower of the ideas of Leninism. He created resistance factions in many cities in China and became secretary of the Chinese Communist Party. At this time, the communists are actively drawing closer to the Kuomintang party, which is promoting nationalism. But after a few years, the CCP and the Kuomintang are becoming incompatible enemies.
What happened next? The road to the absolute power took long 25 years. The creation of the People's Republic of China (PRC) in 1949 was the first successful milestone. Then the Great Leap reforms followed. Then the Great Swim and the bloody Cultural Revolution.
We may treat the Great Helmsmen differently, but nobody will doubt that his pictures deserve the placement in the list of the Top 100 most influential photos in the history of humankind.