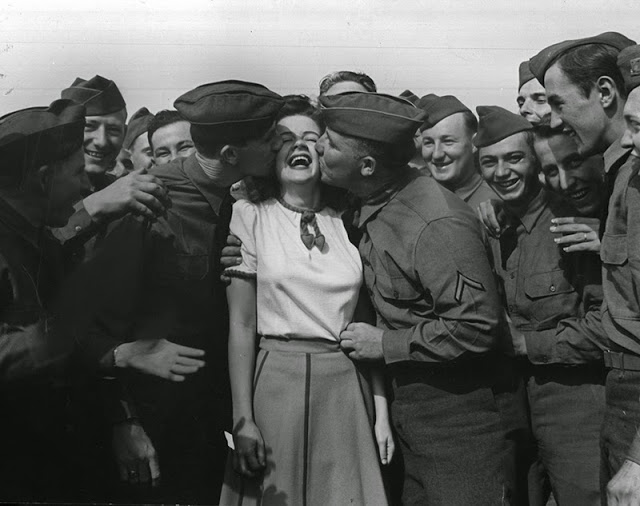 Marilyn Hare kissed them all a few months after Pearl Harbor. As you probably know, the attack on the Pacific Fleet's central base by the US naval forces in December 1941 was a disaster. It pushed the US into WWII and allowed Japan to capture significant territories at the Pacific War Theater. Soon after, the US army will retake everything, but who knew that at the beginning of 1942?
The history books keep these simple words "entering the war," and it sounds like a statement of fact. But things were very different for thousands of young recruits. They had mixed feelings, and mild panic to deep horror was among them.
Only some frivolous entertainment could distract soldiers from the obsessive thoughts of death and can boost the spirit. Winston Churchill made this in 1940, setting the man mode ON, And enthusiastic actress Marilyn Hare decided to entertain them.
A brilliant publicity move by Marilyn Hare
Marilyn arrived at one of the soldier's training camps with a photographer. She sang a couple of songs and announced that she would kiss 10,000 soldiers to boost morale.
Of course, it was a publicity stunt. Photographs of Marilyn Hare hit the pages of the numerous publications as the perfect example of playful patriotism.
We don't even know if Marilyn Hare really kissed all 10 thousand: in the last photo of the series, the girl is holding the counter, showing 733. Did she return the next day to continue kissing therapy? We don't know.
But soldiers all over the country looked at the photos, giggled, and dreamed that Marilyn Hare would show up to their unit. So the actress performed her main task. She entertained the recruits brilliantly.