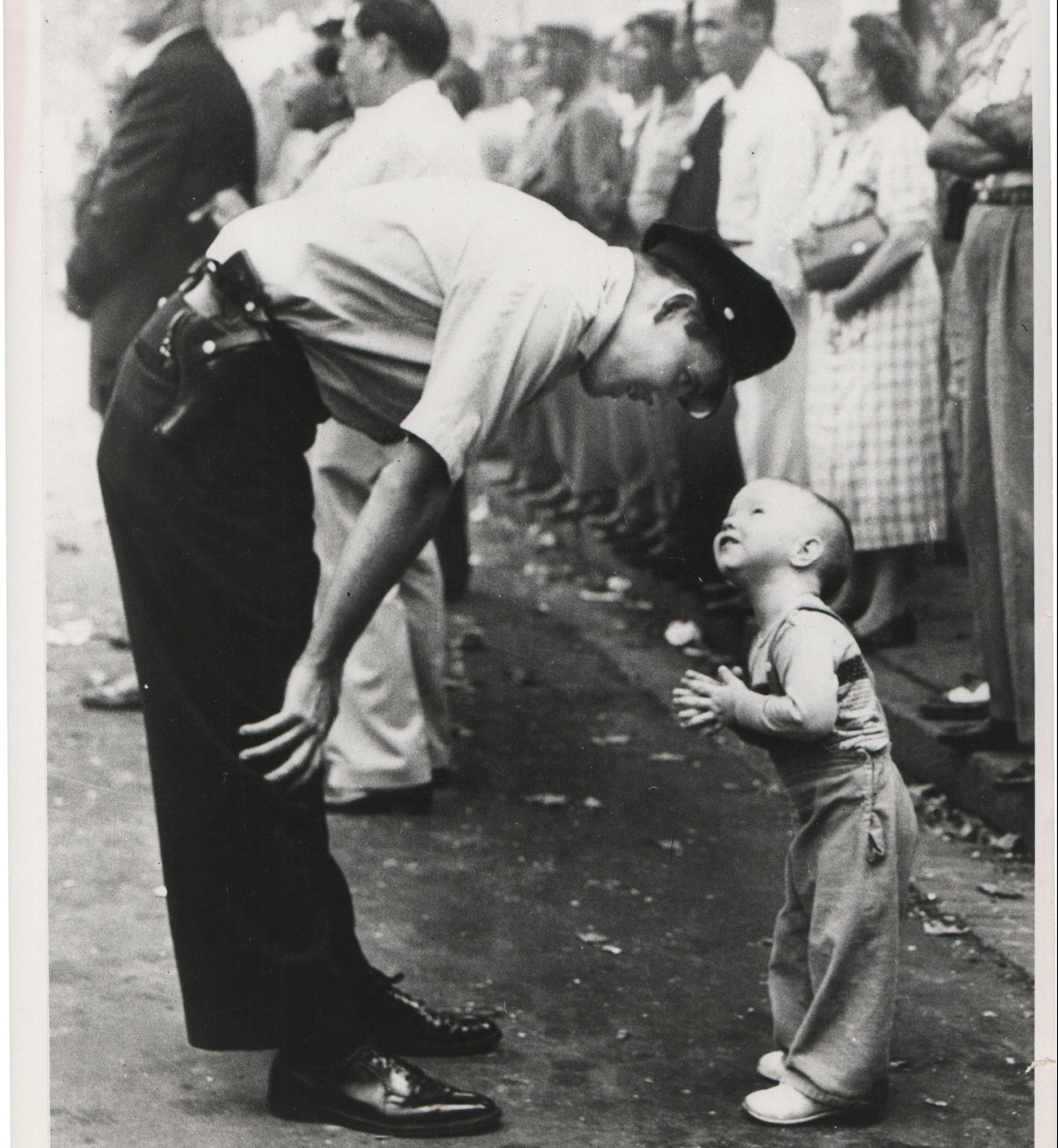 'Faith and confidence' belongs to those Pulitzer-winning photography that didn't capture a violent, dramatic, or historical event. It's just a cute, heart-touching picture that captured the perfect moment. 
The camera angle is excellent; the scene is self-speaking and needs no translation to any language. William Beall stilled a moment when a policeman is patiently talking to a two-year-old boy, preventing him from crossing a street during a crowded public event.
William Beall was working as a photo reporter at the Washington Daily, when he was assigned to bring some photos from the Chinese Merchants Association parade on September 10, 1957. It was a kind of event which never could produce a bright, noteworthy image. Just a regular reporter's assignment, which takes thirty minutes or so to accomplish. Who could imagine that William Beall will capture one of the world-known pictures and win Pulitzer a year later?
The moment of Faith and confidence
Beall remembered that he was keeping his eye on the parade, trying to find at least one good enough scene. But everything was dull and routine on that day. Suddenly, William noticed a small boy step into the street where the parade was going on. A kid was attracted by a bright and colorful dancing Chinese lion. 
A tall young policeman moved towards the boy. He seemed to be inexperienced, and William Beall was curious if the officer will handle this situation. Surprisingly, a young police officer patiently cautioned a kid to step back from the busy street. Beall liked what he saw and called this image 'Faith and confidence.' "I suddenly noticed the scene, turned, waited for a while, and pressed the shutter." The result was a moment of childhood innocence stilled in time.
The name of the policemen was Maurice Cullinane. Years later, he became a Chief of Police of Washington DC.
Almost famous William Beall.
Interestingly, William Beall was on Iwo Jima during WWII action. He served as a photo reporter at the time when Joe Rosenthal captured his famous flag-raising photo. Beall wore the same marine photography outfit as Rosenthal, but unluckily he followed the different squad on that day and appeared on the other side of the island.