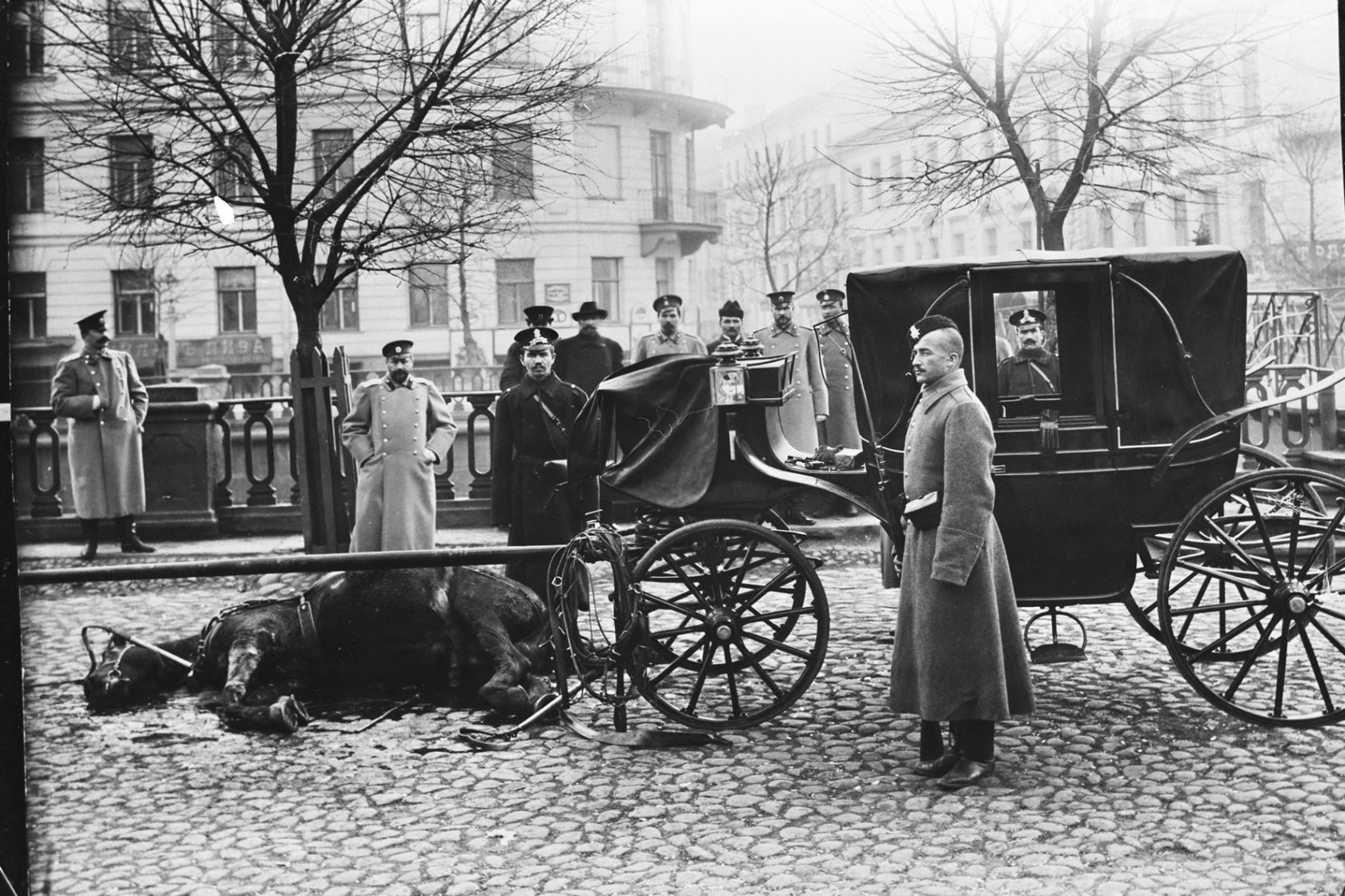 This robbery photo belongs to the godfather of the Russian photo reportage Karl Bull. This Russian camera pioneer even managed to open a photo studio in St.Petersburg by the beginning of the 20th century. Oldpics will publish some of his noteworthy pictures one day.
But now let's take a look at this image of Russian robbery in St.Petersburg that he took on October 14, 1906. Apparently, Karl Bull was somewhere nearby with photo equipment and thus was ready to capture the crime scene. It was the robbery of a carriage delivering gold and credit and securities to the Treasury for 600 thousand rubles (million dollars in nowadays prices).
Russian robbery plan
The robbers were Bolsheviks as it usually happened in Russia during the early 1900s. By the way, young Joseph Stalin, a future ruler of Soviet Russia, participated in a number of such fundraising operations. The robbers' plan was both simple and infinitely arrogant. They calculated the treasury carriage route and decided to attack in daylight and hope for the surprise effect.
The Russian robbery was partly successful. When the carriage approached the corner of the Ekaterininsky Canal and Fonarny Lane. Meanwhile, several decently dressed young people approached it. They threw bombs into the carriage. The frightened guards scattered.
Massive explosion
The explosions were so devastating that it broke dishes in the nearest houses. Even several wall clocks stopped in the nearby watch store. The robbers took the bags (literally sacks full of money) of valuables and rushed in all directions. The luckiest one grabbed the largest bag and managed to hand it over to the lady, who immediately disappeared in a cab. Minutes after, guards started shooting. According to eyewitnesses, "a terrible firefight began, a hail of rifle and revolver bullets rained down like everywhere."
Four of the attackers were killed right there. Another one-shot himself as soon as he realized that he had nowhere to run. In addition, several janitors and passers-by were injured in the shootout. Russian robbery took 366 thousands of rubbles from the 600 total.
The subsequent arrests brought 11 people to the dock. Eight of them were executed in the Shlisselburg fortress two weeks after the robbery.