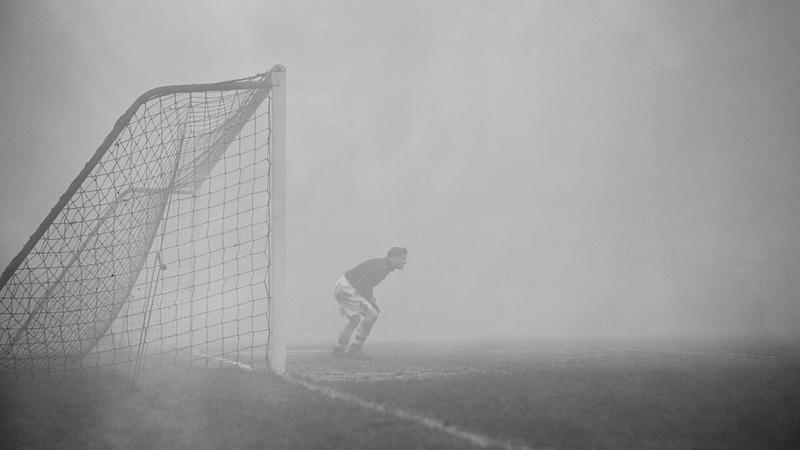 This vintage photo is nothing special: a goalkeeper is playing football during a heavy fog. Nevertheless, there is a funny story behind this picture.
Famous London's fog
Football life in the 1930s was pretty bright and bizarre. The game was only gaining its popularity, and even World Cup required an extra promotion. At the same time, football players could greet the public with the Nazi salute. Sometimes the weather caused the Black Swan effect. 
In 1937, the Charlton Athletic and Chelsea teams played at Stamford Bridge Football Stadium in Fulham, London. Everything went wrong from the very beginning, for both players and the fans. The football players could barely see each other due to the heavy fog. The referee stopped the game, but a few minutes later, he resumed again. He decided that the London fog was not an obstacle for an English football player.
And the game continued. At least that's what Charlton Athletic goalkeeper Sam Bartram thought. He honestly guarded the goal, peering into the fog. The tried to find figures of the players with the ball. He tried to find opponents as a goalkeeper needed to defend his net. But the figures did not appear in any way. The field was unusually quiet. So he stood with maximum concentration and tension for about 15 minutes. Someone took this vintage football photo during this quarter of an hour.
A weird football situation
Bartram recalled later in his autobiography: "A long time passed, and then a figure emerged from the fog. It was a policeman who looked at me: " What are you doing here? – he asked. – The game has been canceled for a quarter of an hour. There is nobody on the field."
It turned out that the referee decided to interrupt the game after a short resumption. Disappointed spectators dispersed to their homes, and the players streamed to the dressing rooms. And no one bothered to warn Charlton Athletic goalkeeper. He was at the opposite end of the field during the match cancellation. Bartram caught his luck when a policeman found him. Otherwise, Sam could guard the gate until the next match.