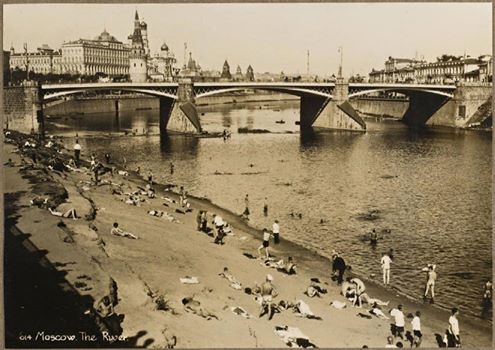 It was fun in Soviet Moscow in the 1920s. Even more, during that decade, the young Soviet State allowed its citizens many things that will never allow again. Even the freedom of the late 1980s wasn't that's bright. The nudism was one of such things. 
Overall, you could do anything if you'll call it the fight vs. bourgeois values. It's hard to imagine nowadays, but that was the focus of the Bolshevik revolution in 1917. And yes, even to sunbathe naked near the Kremlin in Moscow, the Soviet capital! That's what we see in this photo. 
There was a special social group of nudists that called themselves "No shame!" The group members believed that nudity was a pure embodiment of democracy and universal equality. Somehow it corresponded with the values of the young communist state.
"No-shamers" had a habit of appearing naked in public. Sometimes they were going full-commando, sometimes they wore a red ribbon with the words "No shame!" This unusual freedom couldn't last long in Soviet Moscow. When Joseph Stalin took power by the beginning of the 1930s, no-shamers quickly moved to the marginal corner of social life.
Take a look at the Soviet Moscow in just thirty years, in the 1950s.