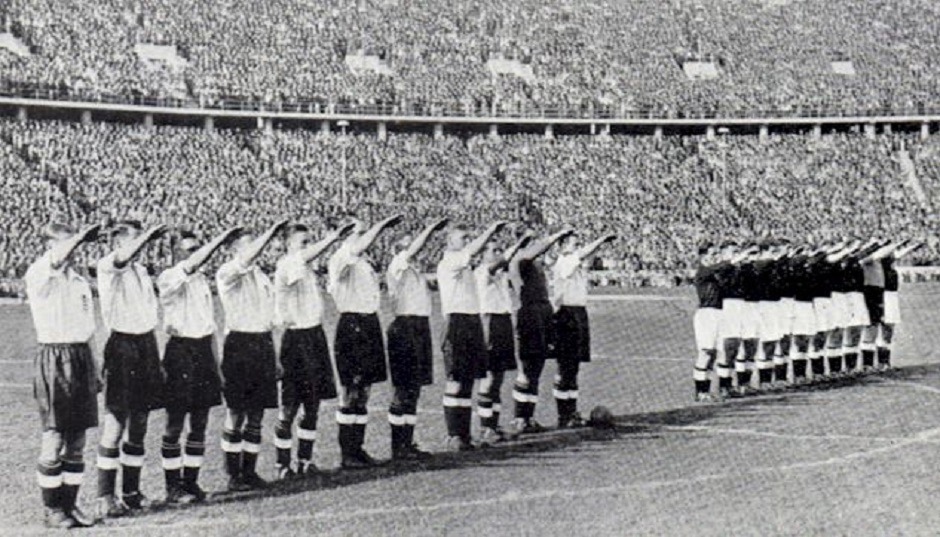 In this picture the soccer players performing a Nazi salute in Berlin, in 1938. And it's not an internal championship game between to german team. This is an English national soccer team greeting the german public before the match.
A complicated Nazi case of the 1930s.
Overall, the mid-1930s was a very special time in terms of how Nazi rule was treated in the world. Everyone understood its evil nature and condemned officially. But at the same time, there was no real action behind the diplomatic rhetoric. For example, some of the US athletes refused to give a Nazi salute during the 1936 Olympics, while soccer players did. Henry Ford received a Nazi honor medal when Germany had already occupied Astria and was preparing to invade Czechoslovakia.
When world-renowned English writer Charles Dickens heard of incidents of cannibalism among sailors during the infamous Franklin expedition, he wrote a passionate article. Its main message was pretty basic: English sailors cannot eat each other! They are cultured people! Dickens can be understood: who is pleased to know that your compatriots can behave no better than cavemen?
A sad soccer story of one Nazi salute 
Now fast forward almost 100 years, to May 1938. The British soccer team came to Berlin for the match with the German football team. And right at the stadium, before the start of the match, this is the very first photo: English soccer players raise their arm in a Nazi salute.
Of course, when WWII ended and all the horrors of the fascist rule went public, no one wanted to have any ties with this regime. And even more so, I did not want to have such a picture in my photo album. They tried to justify the national team in every possible way. Brits could not believe that the players voluntarily raised their right hand.
Here's how they explained everything. The diplomats asked the players to please the Germans. After all, it was May 1938, the tipping point of the "May crisis". Great Britain and France were very afraid that the Germans were about to attack Czechoslovakia.
Failed strategy
Today you'll ask your soccer players to raise an arm in Nazi salute. Tomorrow Nazis will see it and invade Czechoslovakia with its Sudeten Germans alone.
The mitigation plan did not work: on October 1, 1938, German troops occupied the Sudetenland of Czechoslovakia. And the British, by the way, won that match – with an impressive score 6:3.
And here's a final interesting fact. There was one soccer player Cullis who refused to join the rest of his teammates in performing a Nazi salute prior to the match. And the coach decided to keep him on the bench on that day.