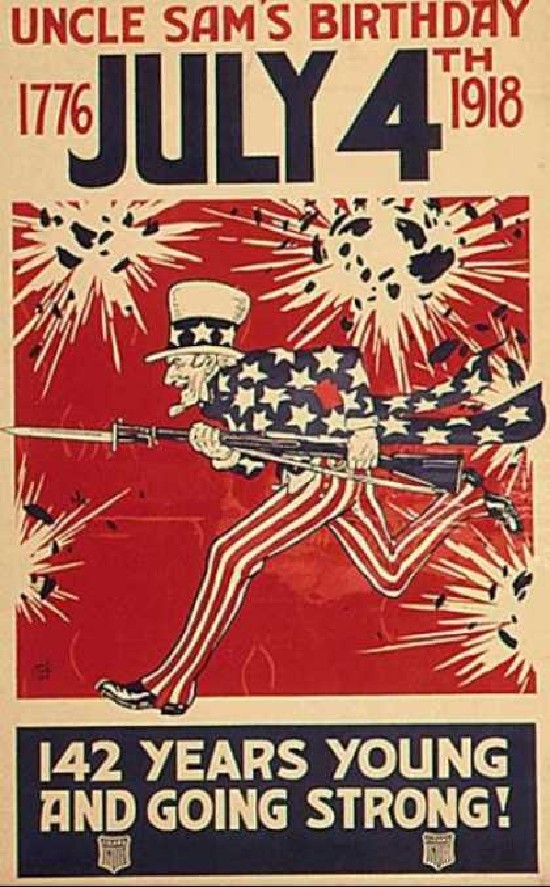 The US entered war I in 1917 in alliance with the good Britain and France. By this time the US economy was one the largest in the world, but nevertheless the government needed to raise funds to support the military activity in Europe in all possible ways, including selling bonds to the citizens of the US. Here's how the art of the propaganda came in help. The United States was already a leader and trendsetter in the recently discovered art of movie making and therefore the new profession of economic advertising. So it was just a matter of time when such effective newly discovered technologies will become an instrument  in the shaping of the American people's minds and therefore the altering of popular opinion into a pro-war position. The idea of participating in the war 'over there' had to be planted into citizen's minds and result into recruitment to the army itself or funding the war activities with their dollars.
The visual part of this propaganda consisted mainly of posters. The simple attention grabbing slogan and the self speaking illustration served well, convincing people to support the army. They might be pasted on the edges of buildings, put within the windows of homes, tacked up in workplaces, and resized to seem above car windows and in magazines.
In 1917 the U.S. government's public information committee formed a Division of Pictorial Publicity, and their main goal was to use the advertising techniques in messaging the war news. The committee, headed by former investigative journalist George Creel, emphasised the message that America's involvement within the war was entirely necessary in achieving the salvation of Europe from the German and enemy forces.
In his book titled "How we Advertised America," Creel admitted  that the committee was called into existence to form WWI a fight that might be a "verdict for mankind". He called the committee a voice that was created to plead the justice of America's cause before the jury of popular opinion . Creel also refers to the committee as a "vast enterprise in salesmanship" and "the world's greatest adventure in advertising". Needless to say that the committee's message resonated deep within every American community and also served as a corporation liable for carrying the complete message of yank ideals to each corner of the civilized globe. The isolationism that was once popular across the US public opinion was replaced with understanding of the importance of the events that took place in Europe and necessity of the US government to participate in them.
142 years young and still strong Uncle Sam is going to war