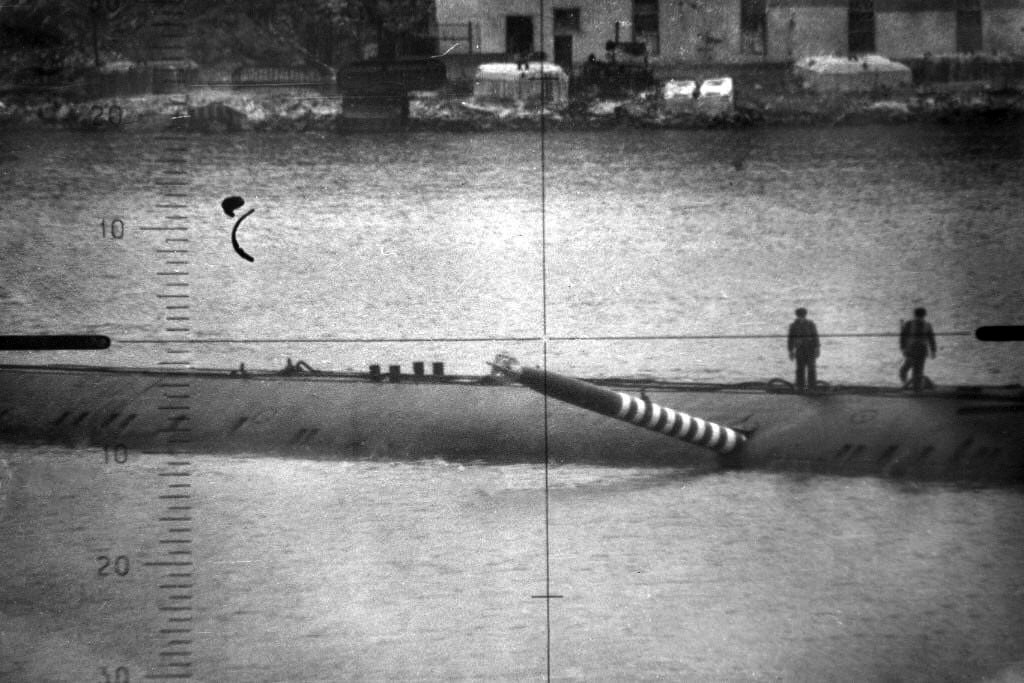 You may ask how this is even possible. Here's a story.  The torpedo hit the side of the Soviet K-178 submarine due to the training accidents. The command of the diesel submarine B-454 forgot to turn off the homing system before firing a remote-controlled torpedo while doing a training exercise. They realized that something was up after the projectile did not surface at the intended location. They saw a Soviet submarine surfaced instead of the torpedo, and its commander alarmed for the help.
The submarine crew removed the torpedo pretty quickly. Thank god, it was a training sample (striped one), not a real one. Both submarine and torpedo required the repairs. 
In general, we have to admit that this fascinating photo and its history are shrouded in legends. One of them goes back to the turbulent 1990s in Russia. The now-Russian army was selling everything out, including remote-controlled torpedoes. This image served as an excellent advertising photo.
Two more images from the scene help assess the situation from all angles.
Unusual usage of Soviet submarines
Early in WWII, the Soviet Navy irregularly used submarines as transports for small squads of soldiers. In general, they were saboteurs and "agents" and confined cargo. This status changed when German troops began the siege of the Crimean harbor of Sevastopol. When Soviet defenses fell in the Crimea in the fall of 1941, about 110,000 soldiers, sailors, and marines outlived in the beleaguered port. Soviet ships and submarines, running a gauntlet of bombs and shells, brought men, munitions, and supplies into the city.