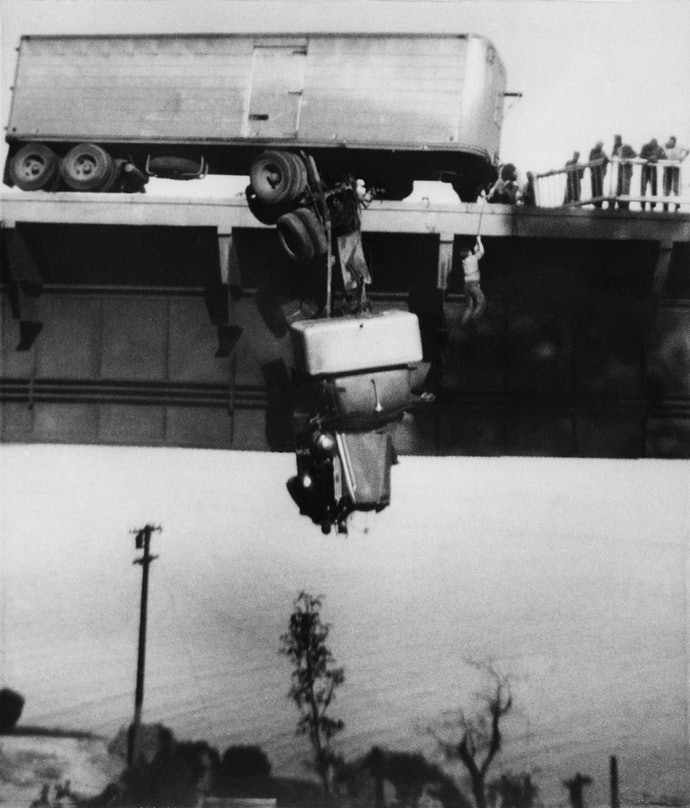 Newspaper editors called this picture 'Rescue at Redding'. Virginia Shaw wasn't a professional photographer, but her image won the Pulitzer prize next year. It was a very rare case when an amateur won this prestigious award.
Oldpics puts this picture among rare Pulitzer winning photos that captured an overall positive scene (other images are Homecoming, 1943, Faith and Confidence, 1956, Near Collision at Air Show, 1950). In fact, other Pulitzer winning pictures captured either war or bloody scenes that are both socially important and sad.
The 'Rescue at Redding' took place on May 3, 1953, in  ​​Lake Shasta. Walter and Virginia Shaw were just fishing when a truck with fruits lost control and crashed into the fence right in front of them. The car was hovering dangerously over the abyss. Two unlucky drivers were still in its cab, without any hope to survive.
As you may guess, Virginia Shaw couldn't just take out her mobile phone and capture an eye-catching incident. Moreover, taking that image wasn't her priority. The Shaw family rushed to help the people in the hanging truck. Fortunately, they were not alone on the bridge. Someone took a ship's rope out of the car, and they threw it to the men in the truck cabin. The engine ignited, and the cabin collapsed into the river right after the drivers got out of their deadly trap.
Stilled moment of 'Rescue at Redding'
As drivers were getting out, Virginia Shaw suddenly remembered her camera in the car. She ran to her cheap Kodak Brownie with only two frames left. And the film had been overdue for a year. This fact did not stop the woman from taking a picture of the happily resolved incident.
Virginia was happy with her 'Rescue at Redding' shot and immediately sent it to the local newspaper. She wanted to get a weekly reward for readers who sent the most interesting picture of the week. Needless to say, Virginia won her ten dollars.
But even more surprising, a year later, her shot won the most prestigious reporters' prize – the Pulitzer Award. It turned out that Virginia Shaw became the first woman to get the Pulitzer Prize.