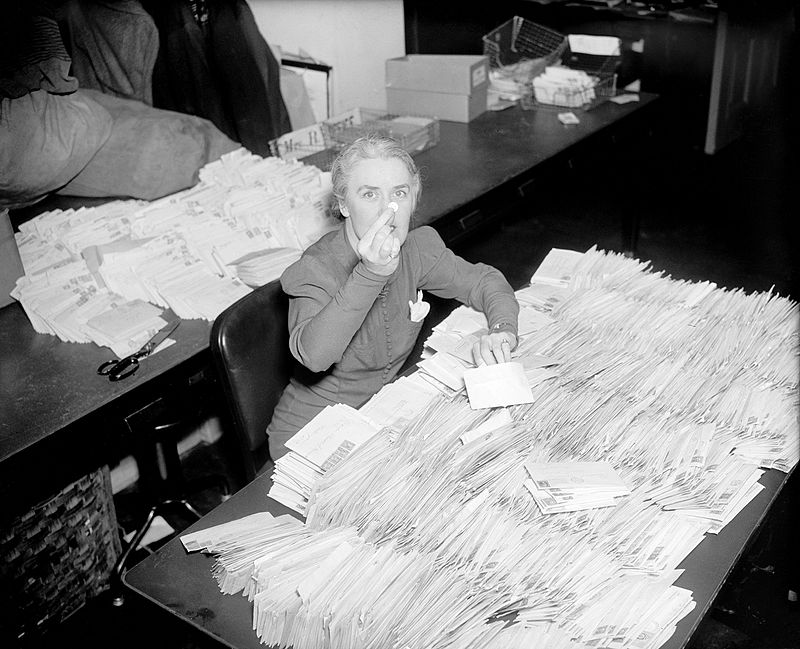 Marguerite Lehand went down in history as the most influential secretary of the President of the United States. Indeed, she was the closest confidant of Franklin Delano Roosevelt.
So, it was the Great Depression decade in the USA. The New Deal was everywhere, people were fighting the economic crisis, the large business was promoting Glorious American Way. The administration launched the March of Dimes campaign in January 1938. The rumor has it that this campaign's idea belonged to Marguerite Lehand, not FDR himself. However, the idea was to help the spread of polio in the United States. The government launched the fundraising for vaccine researches.
The good thing about the campaign was that it didn't just raise money to support sick children. The campaign targeted children all over the US to send a dime to help other, less fortunate kids. That is how tolerance and compassion are forming in childhood.
Actually, in our photo, Margaret is immortalized with the first batch of letters with coins from American children. The US Post delivered them to the White House on January 28, 1938.
Roosevelt's affairs
The 32nd President of the United States, Franklin Delano Roosevelt, wasn't an excellent family man. In 1918, Eleanor Roosevelt discovered his affair with a secretary.
Although the couple decided to keep the marriage, and not to harm Franklin's political career.
Here's how Franklin Delano Roosevelt had some romances with the prominent women of the 20th century (for example, with Princess Martha of Sweden). Even the partial paralysis that put Franklin in a wheelchair did not dampen his energy in love affairs.
Franklin also had a relationship that lasted more than twenty years. Relationship with his secretary, and later the only woman in history in the position of chief of staff of the White House – Marguerite Lehand.
Marguerite Lehand in history of the US
Historians and those who are bored with life argue about the nature of these relations. We know for sure that Franklin called his secretary by the pet name Missy (after his children, who could not pronounce "Miss Lehand"). Marguerite Lehand called the president his initials – FDR (no one else called him that).
Marguerite was Roosevelt's chief adviser, his confidant, his medium in relations with the world. Only Marguerite had access to the secret corridors leading to the Oval Office and the president's correspondence. 
Miss Lehand handled the boss's schedule and made appointments.
Marguerite knew about Hitler's invasion of Poland earlier than FDR. He had already gone to bed, and she accepted the message.
Marguerite Lehand appeared on the cover of Time in December 1934 as Super Secretary.