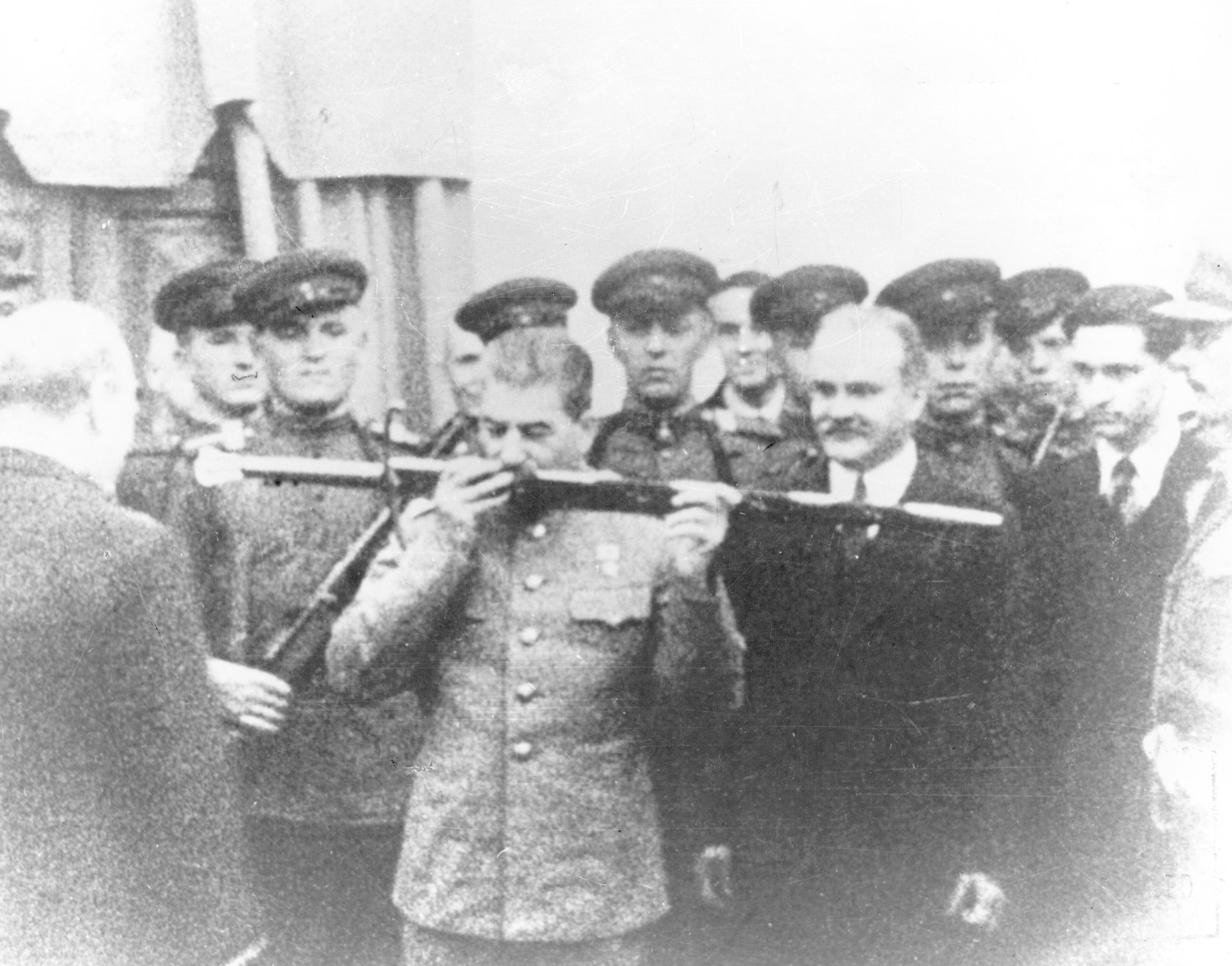 In this picture, Joseph Stalin is receiving the Sword of Stalingrad during the Tehran conference in 1943.
The story of the Sword of Stalingrad
We know that King George VI of England wanted to honor the Soviet people's victory in Stalingrad's Battle. We also know that it was Winston Churchill's idea, and he had a  good experience of boosting morale in WWII. Actually, the prime minister presented the Sword of Stalingrad to Supreme Commander-in-Chief Stalin in President Roosevelt's presence.
According to legend, Stalin unexpectedly handed the sword over to Voroshilov, and he dropped it. According to another legend, Stalin himself dropped the sword. Today, the blade adorns the Museum of the Battle of Stalingrad in Volgograd.
The historical video from the event is here.
Glorious blade
The Sword of Stalingrad is 122 cm long, and it was forged of Sheffield steel. There is an inscription on the blade: "To the people of Stalingrad, strong as steel, from King George VI as a sign of deep admiration for the British people." The sword hilt is plated with 18-karat gold. The scabbard is crimson, sewn from the red broadtail.
Wilkinson Sword Company accomplished the design of the Sword of Stalingrad and forged it in three months. The model is similar to Crusader's double-edged two-hand sword.
Why the Battle of Stalingrad was so important
Winston Churchill perfectly knew how important the battle of Stalingrad was. Stalin and the Russian army suffered heavy losses in 1941, and they wanted a comeback. And the Battle of Stalingrad was the most important fight of 1942, and it was the tipping point in WWII. The battle lasted for two hundred days.
The Soviet command didn't expect the Nazis to attack the Stalingrad. They were enforcing the Moscow defenses, waiting for the second attempt to capture the capital. Nazi plans were different. German forces wanted to cut the Red Army off the oil from the Caucasus. Russians managed to encircle the German army at Stalingrad. The Soviets captured or killed around 750 000 germans.