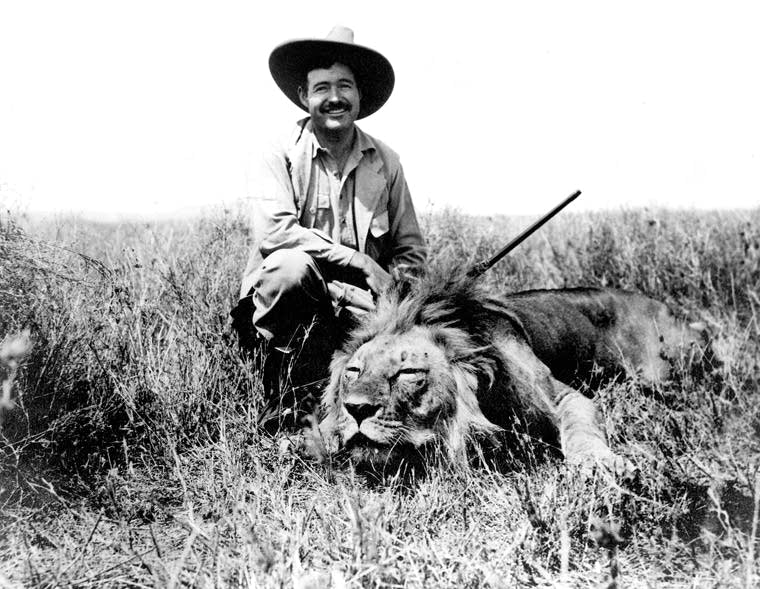 Everyone knows Ernest Hemingway as a cat lover. But there was at least one cat which was killed by the writer's love. The genius prosaic Ernest Hemingway was also an avid hunter. He traveled to Kenya in 1933 and spent three months on safari. A prominent writer, he left detailed memories about those days:
"Now it is pleasant to hunt something that you want very much over a long period of time, being outwitted, out-maneuvered, and failing at the end of each day, but having the hunt and knowing every time you are out that, sooner or later, your luck will change and that you will get the chance that you are seeking".
After all, Hemingway's male characters celebrated courage and masculinity, and in many cases, they could be called avid hunters. Maybe, it will be honest to say: he romanticized hunting to Americans. After all, he pictured his glory moment with a dead lion.
His novels "The Snows of Kilimanjaro" and "The Short Happy Life of Francis Macomber" both filled with men looking for adventure on African safaris, armed with rifles and ready to hunt down every animal (not only) they want.
No one goes home with a lion head to mount on their dental clinic wall. But only Hemingway could stay a cat lover after all this.
Until the last years of his life, Hemingway continued hunting adventures, hunting during travels to Europe in 1948, and not missing a chance to shoot in Spain in 1958.
Read more: Ernest Hemingway and His Cats