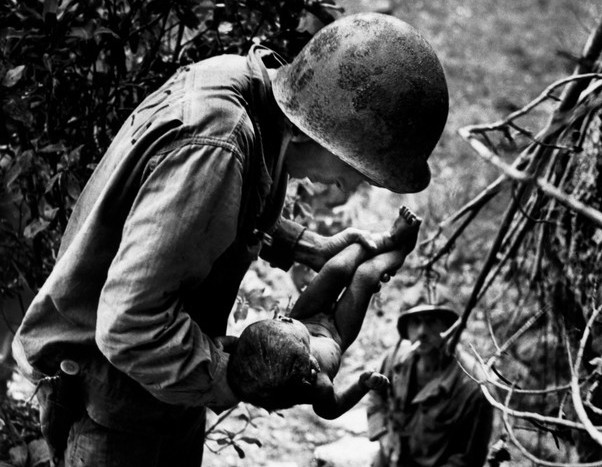 The best-known picture that Eugene Smith took on his pacific WW2 adventure was an image of 'Soldier holding baby.' Smith was a 26 years old beginner-photographer working for the LIFE magazine. The magazine editors haven't any doubt in his talents, but his most excellent pictures like the 'Country Doctor' or his 'Pittsburgh photo essay' had yet to come.
Smith captured the 'Soldier holding baby' photo during the Battle of Saipan, 1944. The history of this photo is heart-touching. Private Jones found a baby in a cave full of dead bodies, most of them – civilians. As Smith reported the discovery in his diary, it happened amidst a two-day mission during which his unit examined different caves where the Japanese could be hiding. Hours spent searching the region resulted in only a cave after cave of dead bodies.
The first breathing person the US soldiers detected was the baby, "a 'living-dead' tiny infant" as Smith put it.
The baby was lying on the ground, face-down near a massive boulder when US marines found him. The air was sweltering in the cave, but an infant had enough to be able to breathe. Private Jones heard the baby crying, suffering on the ground, striving to free himself. "It took 5 minutes of deliberate removal of the clay to free the head.  Soldiers passed the baby down from hand-to-hand until it reached ground level," Smith wrote. "Marines transported an infant to the hospital by Jeep, and we continued our search. We didn't meet any other Japanese who were alive."
US Marines found the cave they were looking for on the very next day. Almost all of them were civilians hiding from the horrors of war. American forces used smoke to flush all of the 122 cave inhabitants. Few Japanese combatants who resided in the cave killed themselves to avoid surrender.
Eugene Smith mentioned that all civilians got water and medical care. "The marines who had lost so many brothers-in-arms entrapped in the same caves now treated Japanese (especially the kids) with candy and all the food they had in pockets," he wrote. "It was a great illustration of the best intentions of the US forces during this war campaign and lack of a blinding hatred such as can overcome virtue and reason. It was the best of what American people could do during that historical events."
While capturing the history of WW2 and its pacific battles, Eugene Smith noted a cultural difference between Americans and Japanese. The Asian readiness to sacrifice their lives to avoid surrender was something that the photographer never understood. However, Japanese culture attracted Eugene Smith. He wanted to know these people better and didn't miss an opportunity to return to Japan decades later to document the Minamata tragedy.