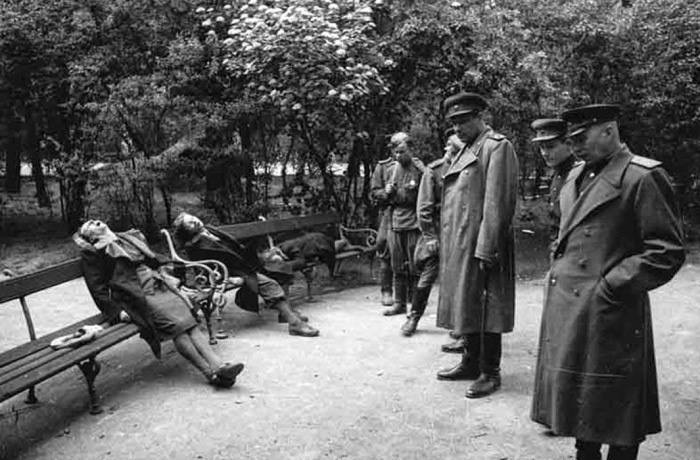 It's another famous photograph by Evgeny Khaldei, the author of the legendary photo "The flag over the Reichstag." This shot is not so monumental, but it's also a fascinating one. Khaldei took this photo of the family murder in April 1945 in Vienna. It depicts a dead Austrian family, watched by living Russian officers. 
Check the most Bizarre WWII photos.
A killer shot a mother and her two children: a teenage boy and a girl, whose body was lying a little further away. Their father killed them.
Evgeny Khaldei recalled the story of this photograph: "I went to the park near the parliament building to film the columns of soldiers passing by. And I saw this picture. A woman was sitting on a bench, killed by two shots – in the head and neck; next to her is a dead teenager of about fifteen and a girl. The corpse of the father of the family was a little further away. He had a gold NSDAP badge on his lapel, and a revolver was lying next to him. Soon a witness of this Vienna murder approached the photographer and the officers. He told them that the German first killed his family and then shot himself.
After the Soviet army captured Vienna, the nine-year occupation period started. The city was split between the allies, and the Russians maintained a strict borders control regime. Here you can check some noteworthy archive photos from Vienna's Soviet occupation zone, taken in the 1940s.