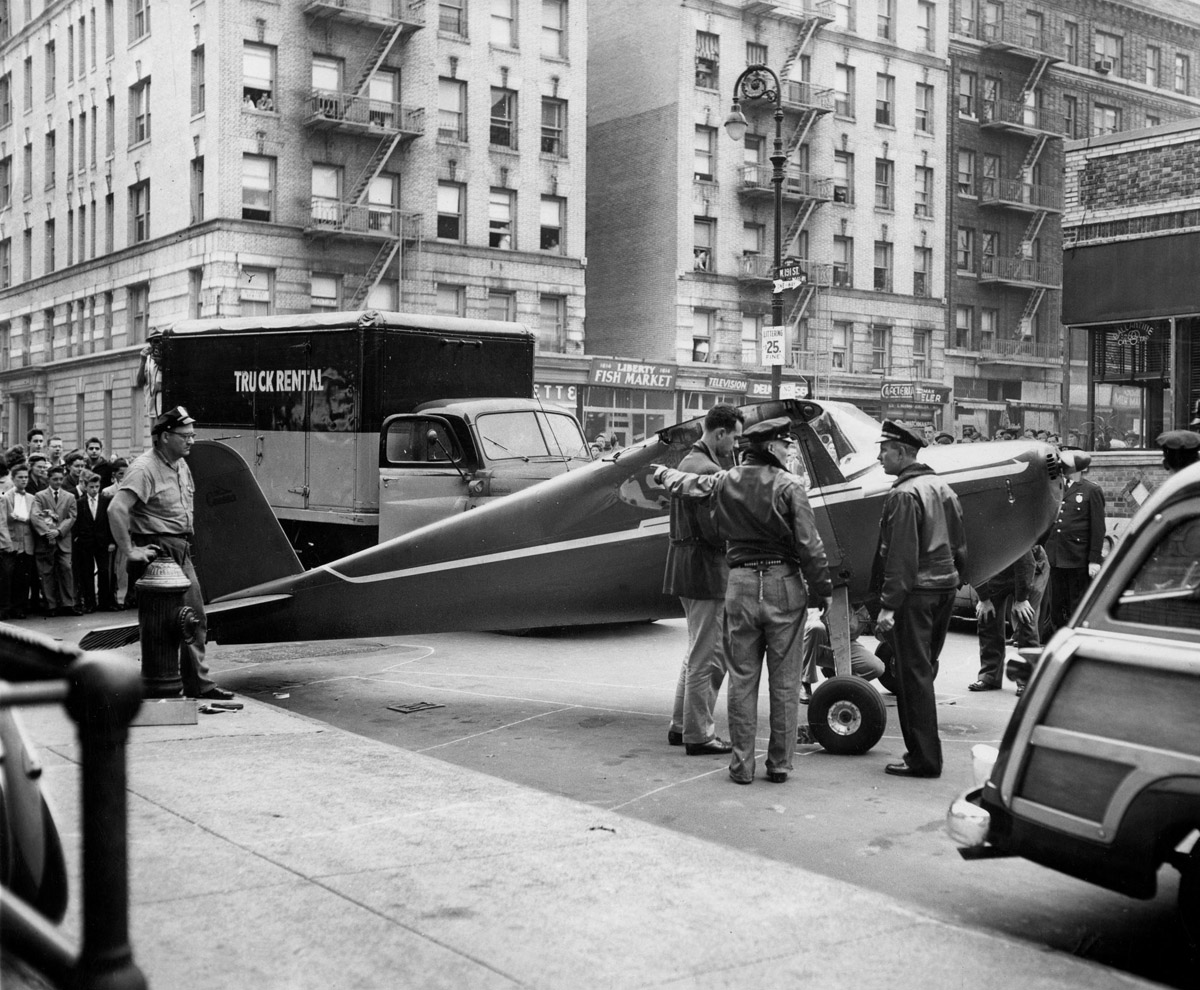 Both times it was a stolen plane that Thomas Fitzpatrick piloted on a drunk.
The first incident happened on a warm September night in 1956 in New York. Thomas Fitzpatrick, a  26-year-old Korean War veteran, was furious. His barmates didn't believe when Thomas said he can land a plane on New York street!
The drunken argument of Thomas Fitzpatrick
Thomas was sitting with his friends in one of the bars in Manhattan. Our hero of the Korean war had drunk enough when he started a stupid debate of what he, the Purple Heart honored pilot, can do.
The crowd said that no one, including Thomas Fitzpatrick, could ever land on a plane on New York streets. The owner of the bar also joined the drunken argument.
This drunken argument would have to end in the same way as most drunken arguments in the world. Everybody will go home, occupy the sofa and remember nothing the next day. But this dispute was an exception – it went down in history.
Fitzpatrick could not sleep when back home to New Jersey. One thought throbbed in his dull head: "Win the argument." At three o'clock in the morning, Thomas entered the Teterboro School of Aeronautics and hijacked a small private jet.
Fifteen minutes later, Fitzpatrick landed beautifully on Saint Nicholas Avenue. It was not so far from the bar where he had argued with friends a few hours earlier. Of course, Fitzpatrick flew without any radio communication. He relied solely on his pilot instinct.
Thomas was lucky for the first time.
Nowadays, this trick could never happen. It is highly likely that Fitzpatrick would have been shot down while flying closer to the city. And if not, then they would definitely put him into jail for a long time.
But it was the year of 1956, and Fitzpatrick was, after all, a war hero. Therefore, the public admired his act. The owner of the hijacked plane refused to present any claims to Fitzpatrick. As a result, the pilot got off with a $ 100 fine.
When one plane is not enough
But, apparently, one flight was not enough for Thomas. Fitzpatrick repeated it. And he was drunk again.
The second flight also was in the fall on October 4, 1958. It all began in a bar, albeit in a different one. Fitzpatrick broke into the same aviation school and hijacked another plane.
This time, the reckless pilot landed at the intersection of Amsterdam Avenue and 187th Street. When asked by the police why this dangerous flight, Fitzpatrick replied: "The owner of the bar did not believe that I did it the first time."
Apparently, this time the judge decided to cool the pilot's ardor and sentenced him to six months.
It worked. Fitzpatrick never more stole airplanes and never landed on the streets of metropolitan areas. Instead, he worked as a steam heating fitter and raised three children. Thomas Fitzpatrick passed away in 2009 at the age of 79.