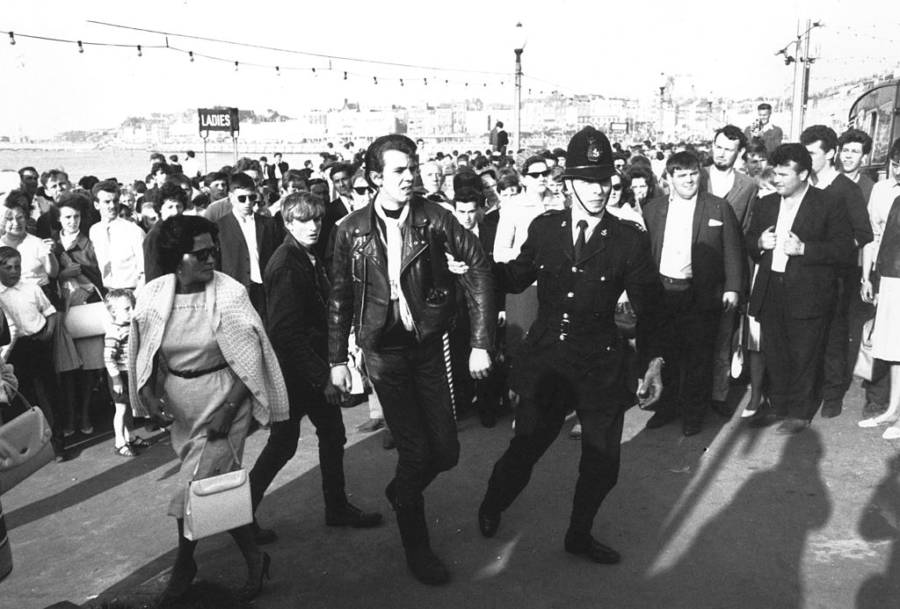 The clashed of mods and rockers in the UK is an integral part of Rock music history. Oldpics published a noteworthy picture of the famous beach fight between mods in rockers in 1964. Here's why we decided to dig dipper and publish some more excellent photos of this music and cultural phenomenon.
Historical aspect
So, we're talking about the so-called generation of Baby boomers who just experienced their teenage rebellion. Those post-war kids bothered about their freedom and chance to change the world much more then their parents did. 
The rock music popularity gained its strengths, and the youth split onto two primary social groups: mods and rockers. The mods were the sons of the style. They preferred R'n'B, and sophisticated psychedelic rock wore skinny ties and suits. Mods liked fancy scooters too and enhanced them the way that only Xibit could do. The rockers were the tough guys; leather jackets, greased hair, and heavy motorcycles.
The Easter war of Mods and Rockers
On Easter weekend in 1964, the small clashes turned into a massive stand-off. The hottest battles emerged at the beaches of Brighton and Margate. Hundreds of teenagers crowded the resort areas for a reckless fight.
Social researcher Stanley Cohen will call it a moral panic later. The confrontation was ignited by media and officials, who forecast the clashes all around the UK. It seems like everyone who read the newspapers during those days had a feeling that the war between mods and rockers is inevitable. The sociologist believes that many of the fights could never happen if the media didn't spread the youth's anxiety.
Let's cite the words of the 18-year-old John Braden: "Yes, I am a Mod, and I was at Margate. I'm not ashamed of it − I wasn't the only one. I joined a few of the fights. It was a laugh. I haven't enjoyed myself so much for a long time. It was great − the beach was like a battlefield. It was like we were taking over the country. You want to hit back at all the old geezers who try to tell us what to do. We want to show them we're not going to take it."