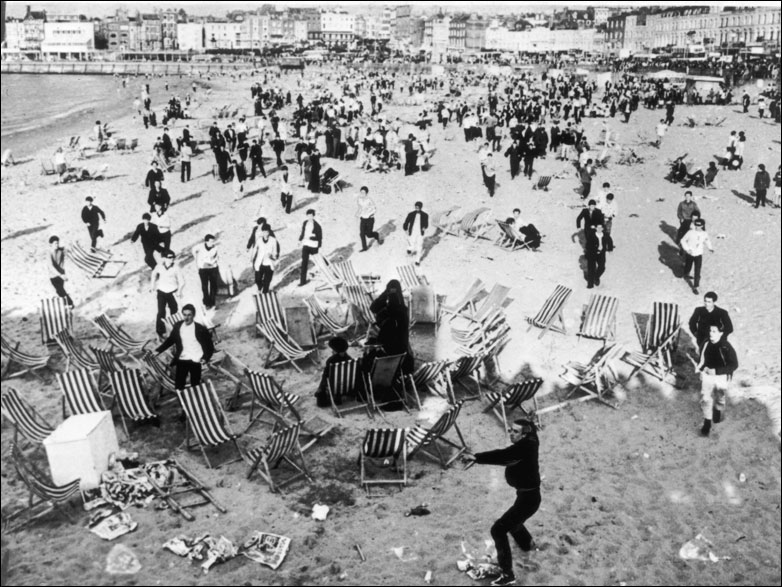 This historical clash of two militant subcultures of rockers and mods became legendary soon. They literally occupied the streets of London in the 1960s. The conflict was inevitable, and it's a huge part of Rock music history of the 60s.
Who were Rockers and Mods
The Rockers seem pretty straight up to us. They wore leather jackets, drove motorcycles. Rockers also refused to use helmets: they ostentatiously despised safety and didn't want to ruin their fancy hairstyles. As you may also guess, they listened to rock'n'roll.
The Mods preferred tailored jackets, and their girls walked around in miniskirts. They used neat scooters as fashion transport, and they listened mainly to the soul, R'n'B, and ska.
The media well covered the feud between these two movements in the early 1960s. But now let's get to the picture of the mass brawl of rockers and mods on the beach.
The hot summer of 1964
The clashes between mods and rockers peaked in the spring and summer of 1964. It was hot, and representatives of both subcultures rushed to the beaches of coastal English towns. Journalists followed them, looking for sensations and spicy pictures. And they got what they wanted in May when mods and rockers staged a series of grandiose fights.
Mods were armed with switch knives, rockers used chains, and both parties used broken sun loungers. The two-day brawl on the beach in Hastings on May 18 and 19, 1964, was the most famous. The media called this fight "The Second Battle of Hastings." The judge handed out fines to the most active participants in the fight, called them "Rag Caesars."
You will be surprised, but the beach's fights were often won not by tough rockers, but by stylish mods. The police even had to take the rockers in the ring to prevent further injuries.
Mods and rockers in music history
The confrontation between mods and rockers became a bright part of music history in the UK. For example, based on the album The Who, the movie Quadrophenia tells a lot about those conflicts.
Sociologist Stanley Cohen did special research and called it People's Demons and Moral Panic. By the way, he invented the term "moral panic." In fact, this panic is being provoked and inflated by the public and the media. For example, Cohen argued that clashes between rockers and fashion in the 1960s would have been less aggressive and frequent if journalists and public figures had not fueled them.