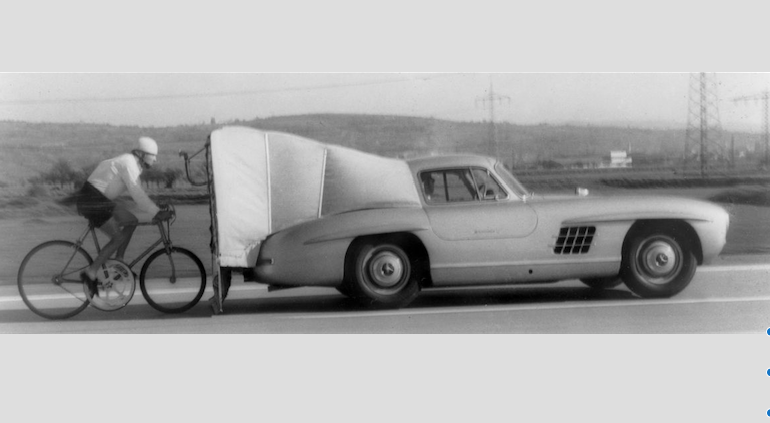 In 1962, Jose Meiffre set a new bicycle speed record of 204 km/h (126.76 mph).
No one will explain what is happening in this photo. How could a cyclist catch up with a car? Note that it is a sports car! And what kind of hood is attached to the back of the Mercedes?
It's all human-powered
Well, it is a bicycle to speed record. Overall, it was an attempt, but it was successful. Photographer captured this recorded moment on July 19, 1962, on the German Autobahn.
Believe it or not, the French cyclist Jose Meiffre hit 204 km/h on that sunny day. To be precise,  his speed was 204.73 km / h (records are accurate). Needless to say, rare cars could afford the luxury of such a speed in the 60s. And here comes a bike. Not this one, a much faster one.
Bicycle technology is key here. First of all, the bike weighed only 20 kg, and its wheel rims were made of wood! Pay attention to the unrealistic size of the sprocket on the bike. You can count all 130 spikes if you want.
Why Jose Meiffre to set a bicycle speed record
And, of course, Monsieur Meiffre's record would have been impossible without a fast car. The 3-liter Mercedes-Benz 300 SL with an injection engine had a special umbrella-cap at the rear of the body to make the ride of the record-setting cyclist comfortable and efficient. After all, the flow of oncoming air at high speeds is a huge problem. The higher the speed, the more energy you have to spend to overcome the laws of aerodynamics.
In this particular case, everything worked well. Jose Meiffre hid from the wind in a perfect airbag and set a record that lasted over 20 years.