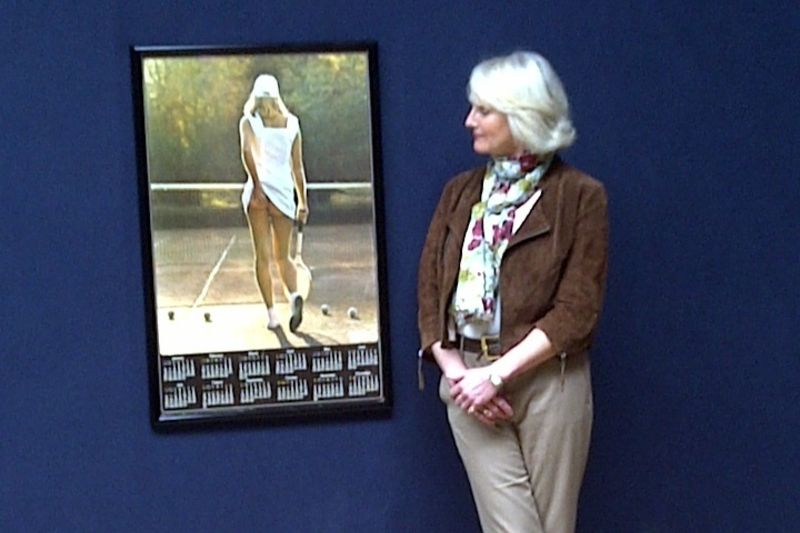 We believe that the 'Tennis Girl' photo increased the number of those wishing to become tennis players in 1976. Later this image became an iconic one, and we'll hardly find a person on the planet who has not seen it. After all, the picture "Tennis Girl" became the best-selling in the printing giant Athena. Its circulation is calculated in the millions. And we are talking about legal copies only! This image is nothing like Pulitzer Prize photo or outstanding historical picture, but there is also an interesting story behind it.
Fiona Butler, a Tennis Girl that never played tennis
The picture was taken at the tennis court of the University of Birmingham.  18-year-old Fiona Butler was acted as a Tennis Girl. It was a very warm September,  and Fiona agreed to pose for a pin-up photo series by her 30-year-old boyfriend, photographer Martin Elliot.
The preparation for the photo session took almost no time. Fiona asked her friend Carol Knott for a tennis dress; Carol also gave Fiona her racket. As you may guess, Fiona Butler never played tennis before. Moreover, she gave everything back after the photo session and a box of chocolates as a bonus. Father lent Fiona sports slippers, and we suspect the parent little knew about the nature of the photo session. Butler's family dog ​​borrowed some old tennis balls, which he used to play. Well, that's all you need to take an iconic Tennis Girl photo.
There were only the photographer and the model during this photo session. "I shot only one film," Elliot recalled years later. "This is not enough for a photographer. I hoped that I captured a good shot. " Well, he captured one. Elliot showed the shot to the Athena photo agency, and they bought it immediately.
Tennis Girl started as a poster
"Tennis Girl" picture appeared in the calendar of the company in 1977 for the first time. It has stayed at print kiosks, bookstores, teenagers' rooms, and truckers' cabins since then. The photograph was especially popular as a poster. They sold it at 2 pounds for a copy. The Tennis Player even survived the company's collapse in 1994.
What happened then?
And what happened to the model and photographer? Fiona and Martin were together for three years. Martin became a respected photographer and died in 2010 of cancer. Fiona is married, has three children, and works as an illustrator.
Fiona never received royalties from big photo sales, but she has no regrets about it. In general, she recalls his sensational model experience with great warmth: "I was amazed that what we did so easily that September afternoon became so popular … I like that this photo for its mysterious atmosphere."
Carol Knotts, who once so successfully borrowed a dress and a racket, sold them at an auction at Wimbledon in 2014. The racket price was £ 2,000, and the dress cost £ 15,000.
Of course, photography, like any celebrity, is accompanied by scandals. So, in 2015, Peter Atkinson from Cornwell made a statement that he took a photograph.