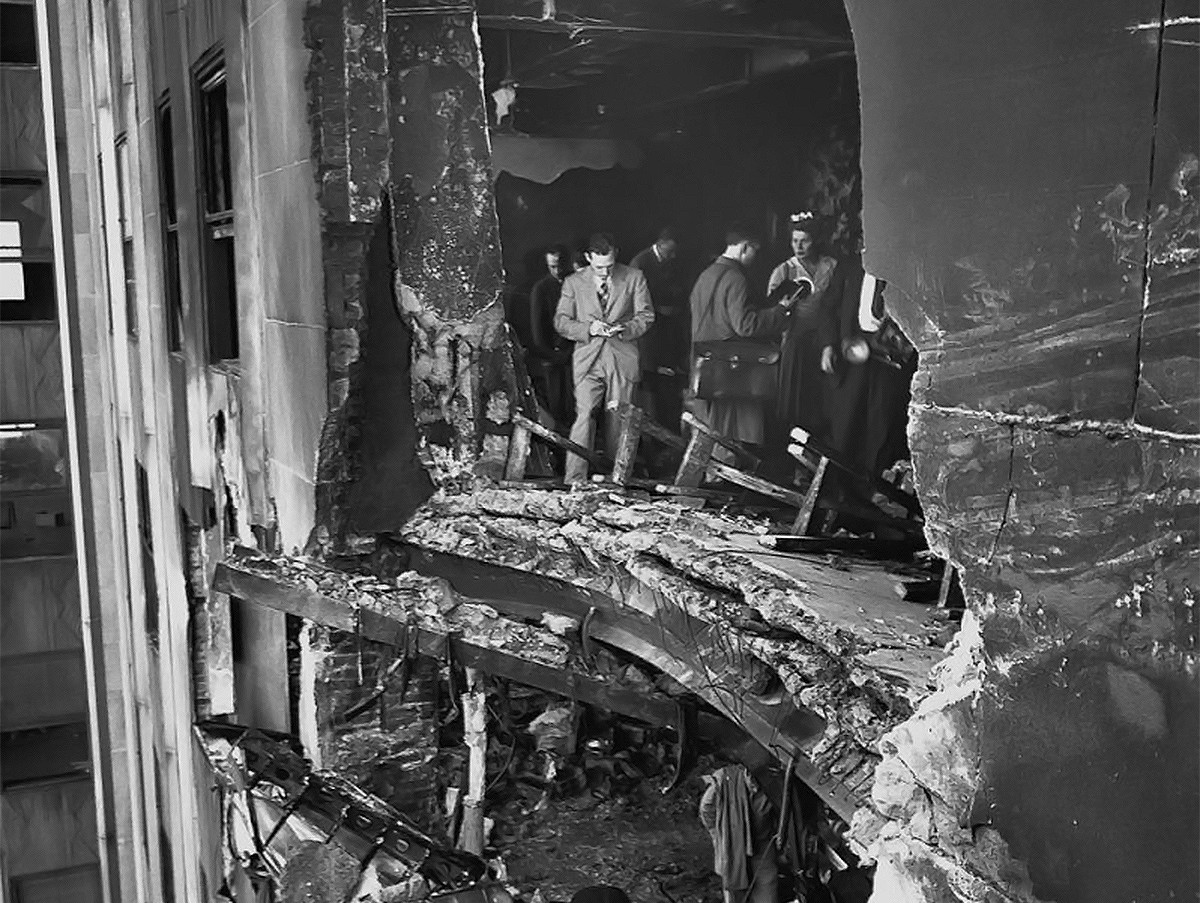 The tragic Empire state building plane crash occurred on July 28, 1945. The B-25 aircraft dramatically rammed the renowned building. The incident took 14 lives.
A sad and foggy story
This story is well known. But Oldpics loves to retell it every time with new details and pictures. In addition to our various not-so-dramatic photographs of NYC.
World War II was almost over (there was still a month before Japan's surrender) when the US Air Force bomber lost its focus in the fog. The plane crashed into the New York Empire State Building between 78th and 80th floors.
The building turned out to be harder than the plane. It fell apart. One of the motors flew right through the skyscraper and started a fire in a neighboring house. The second engine crashed into the elevator shaft and also started a fire there (coordinated actions of the firefighters extinguished it pretty soon).
All three pilots, unfortunately, were doomed. The eleven unlucky residents who stayed at the Empire State Building on that day survived the plane crash neither. Ironically, the Society for Supporting War Victims occupied these floors. There was also the National Catholic Council.
Empire Building will stand. 
Nevertheless, the building's survivability was the best. The skyscraper was again open to the public and tenants right the next day. Cynical journalists joked that the building got through the incident with minor bruises. Yet it took three months to completely renovate the damaged Empire state building after this plane crash.
The lucky crash survivor
The story of the lifter Betty Lou Oliver is impressive. She was in the elevator car on the 80th floor during the crash. Rescuers accidentally put her in the second elevator, but the cables split, and the cabin flew down 75 floors (according to other sources – 79). Betty Lou Oliver miraculously survived! None survived such a fall before or after this day.
Why did the Empire state building plane crash happen?
The crew commander William Smith decided to land during zero visibility. At the same time, he incorrectly interpreted the commands from the ground. He made a right turn instead of a left after the Chrysler Building (77-storey tower, which was the tallest one before the Empire State Building). When the pilot realized this mistake, he conducted an evasive maneuver. But he worsened the situation – one of the engines stalled, and the accident became inevitable.
Empire state building plane crash could take many more lives. But thanks God, it was a day off.