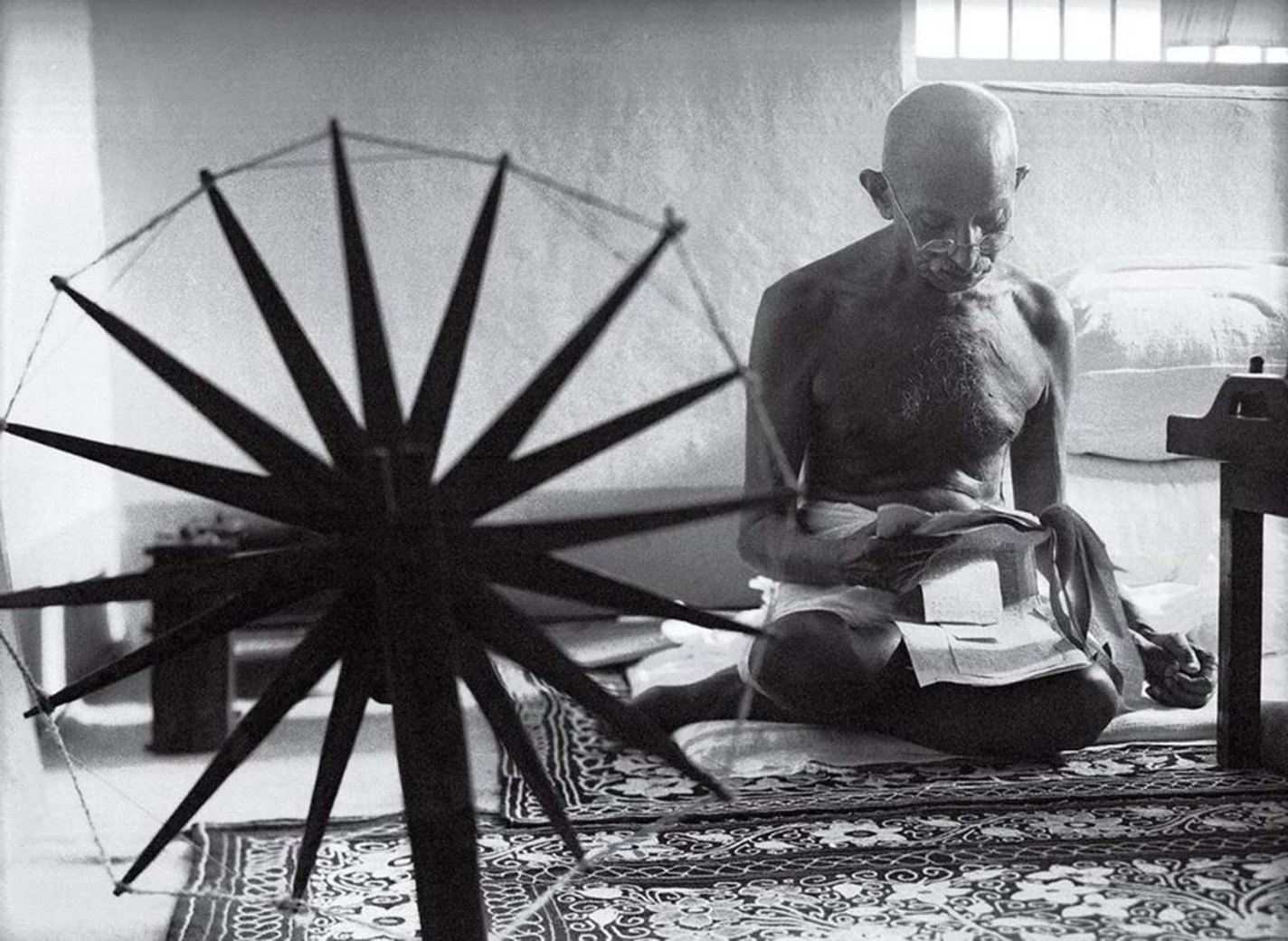 American photographer Margaret Bourke-White took her legendary Mahatma Gandhi and spinning wheel photo in 1946. It became a symbol of the "nonviolent resistance" ideology. Later it turned out that the spinning wheel was a perfect visual component to show the lifestyle and the mindset of Gandhi.
Margaret Bourke-White was a fearless photographer. She became the first female military journalist and took pictures that are sometimes horrifying with the brutality of the events they depict. But at the same time, she was able to capture moments of peace and tranquility. Her photograph of "Gandhi and His Spinning Wheel" is a perfect illustration of her skill.
This Mahatma Gandhi photo is among the 100 most important pictures in history
The harsh time for India
1946 is a turbulent time for India. The former British colony split into independent states – Pakistan and the Indian Union. Numerous bloody clashes between Hindus and Muslims will follow, more than 500 thousand people will die. Mahatma Gandhi, who believed in the senselessness of violence, was very upset by the country's situation. But in 1946, the parties still hoped for a more peaceful settlement of the conflict. During this time, Margaret Burke-White was on assignment for the editorial staff of LIFE magazine in India. She was working on an article ultimately titled "Leaders of India" issued on May 27, 1946.
The photographer took hundreds of pictures, including many photographs of Gandhi himself: with his family, with a spinning wheel, at prayer. A dozen pictures of the Leaders of India hit the pages of the magazine. But there was no famous Gandhi photo among them.
This picture hit the paper in June 1946, as a small image on top of an article dedicated to Gandhi's charm, which the editorial board called "natural medicine" for the sick.
Why is the spinning wheel a symbol of Gandhi
The 'Gandhi spinning wheel' photograph became truly famous after the assassination of Gandhi in January 1948. LIFE magazine released an article entitled "India Lost Its Great Soul." A shot of Gandhi with a spinning wheel took half a page over the text. The photograph served as a moving visual eulogy for this man and his ideals.
Margaret Bourke-White noted the significance of the simple spinning wheel in the photograph for Mahatma Gandhi. She wrote: "Gandhi spins every day for an hour, usually starting at 4 a.m. All members of his ashram must spin too. He and his followers encourage everyone to spin". They even told Margaret Bourke-White to put aside the camera to spin … When she noticed that photography and spinning are both crafts, they replied seriously: "Spinning is the greater of two." Spinning rises to the heights of the almost religious Gandhi and his followers.
The spinning wheel is almost like an icon to them. Spinning is a medicine for them, and they talk about it in terms of high poetry. "
In Burke-White's most famous portrait of Gandhi, a note to the LIFE editors reads: "Gandhi is reading clippings — in the foreground is the spinning wheel he has just stopped using. It would be impossible to exaggerate the reverence with which Gandhi's personal spinning wheel is kept in the ashram."