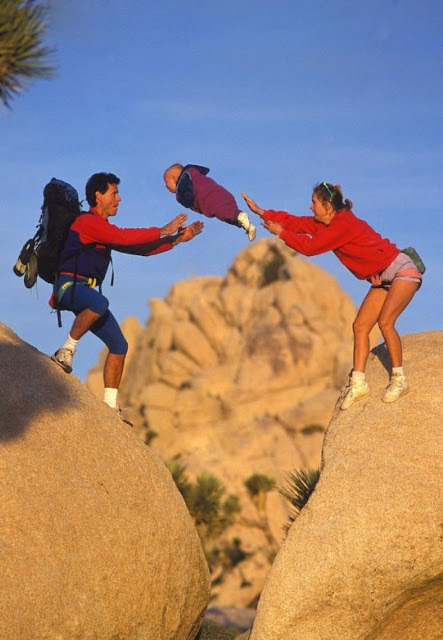 Stay cool, the Flying baby is safe and sound; now she is about 30 years old.
It's amazing how some photos become a part of pop culture. We cannot say that the Flying baby photo was taken by accident. But it wasn't a serious staged photoshoot too, just like the picture "Tennis Girl,", 1976. Or the 'Cowboy' photo became one of the most expensive pictures in the world and hit the Top 100 most important in history.
How was the Flying baby photo possible?
Nowadays, when we overcare our children, the Flying baby photo looks even more amazing.
But in 1991, everything was possible. Apparently, Sherri and Jeff Leeds were not shocked when photographer Gregg Epperson asked them to participate in the special photoshoot. It happened in Joshua Tree National Park in California.
Epperson wanted the parents, standing on two large stones, to throw the child from hand to hand.
And the parents enthusiastically agreed. Mr. and Mrs. Leeds is not one of those couples who sit with babies at home. On the contrary, they went with little Jordan (this is the Flying baby) on hikes.
Epperson snapped the photo and kept it in archives for four years until it was sold to the hiking apparel company Patagonia's spring catalog. That's how Flying baby photography became famous in 1995.
Let's fly again!
Meanwhile, Jordan grew up; now, she is about 30 years old. She stated that she was not offended by her parents to put her in danger as a child.
On the contrary, Jordan plans to take the same picture with her child. "I will hang my photo on the wall in the hallway, and next I will hang a photo with my child … I think it will be cool."