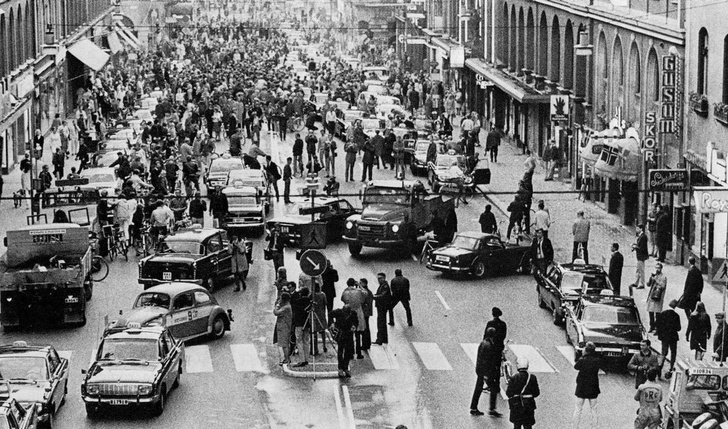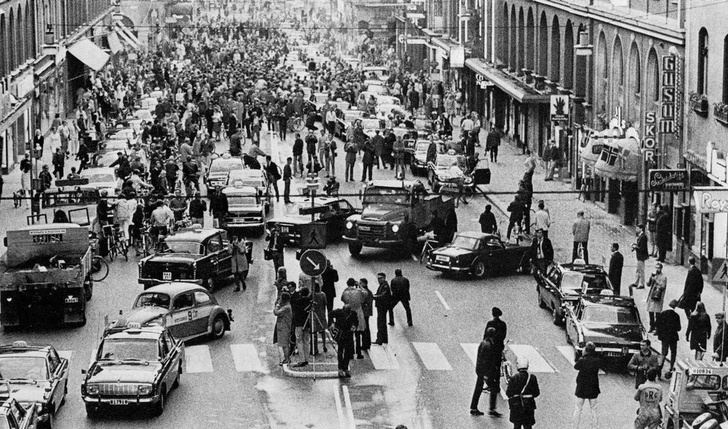 Sweden was the last country in continental Europe to do the right side switch. It happened on September 3, 1967.
History of the movement side selection in Sweden.
Officially, the problem of left side traffic appeared at the beginning of the 18th century. Obviously, the idea of ​​unifying the Swedish road traffic with the European one seemed sound and reasonable. And the Swedes like everything sane and sensible (hello, IKEA).
In 1718 Charles XII abolished left-hand traffic and ordered switching to the right side. Two decades later, in 1734, he canceled this legislation. As a result, at the end of the 19th century, the movement in Sweden was still chaotic.
At the beginning of the 20th century, the problem became a critical one. It became dangerous and economically unprofitable to postpone the transition from the left side to right side traffic in Sweden. The Swedes have already lasted the longest: in Denmark, Norway, and even Finland, the left side has already been changed to the right.
In 1955 the issue of the transition became a part of the referendum. 85% of the population voted to stay on the left. Then the government had to act in a Russian Democracy style and ignored its citizens.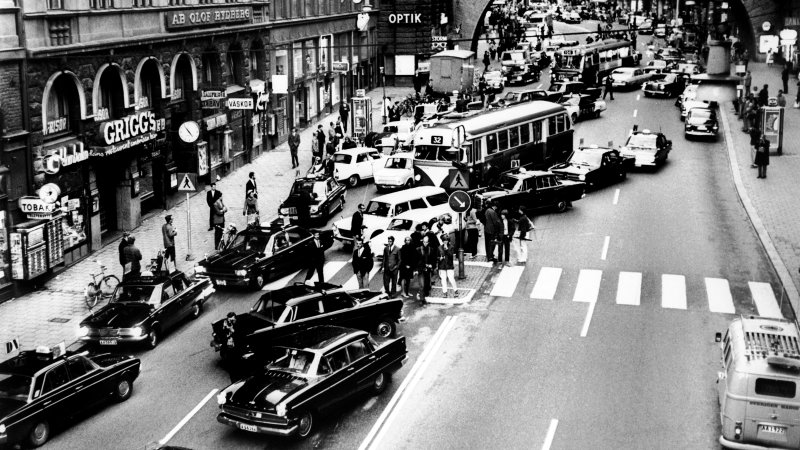 The Day N
In 1963, Swedes formed a State Commission for the Transition to Right-Hand Traffic (Statens Högertrafikkomission). Later, it selected the day of the official transition "Day N."
The government even implemented a national plan of preparation for the transition. The Stockholm buses had to relocate their doors on the right side and move the driver to the left. But the rich city of Gothenburg could afford to buy new buses with right-hand doors and sell the old ones to Pakistan.
Traffic lights switched. Accordingly, road signs changed, headlights were corrected.
And now, Day H has come. The exact time of the transition is 5 a.m. on September 3, 1967. The movement of personal vehicles was prohibited (except, well, bicycles).
But, as you can see perfectly in the photo, the transition was not easy. It is difficult to get a person to think with the right side of the hemisphere when used to thinking with the left.
Nevertheless, the forced reduction in speed in the first months after the transition helped avoid deadly accidents.