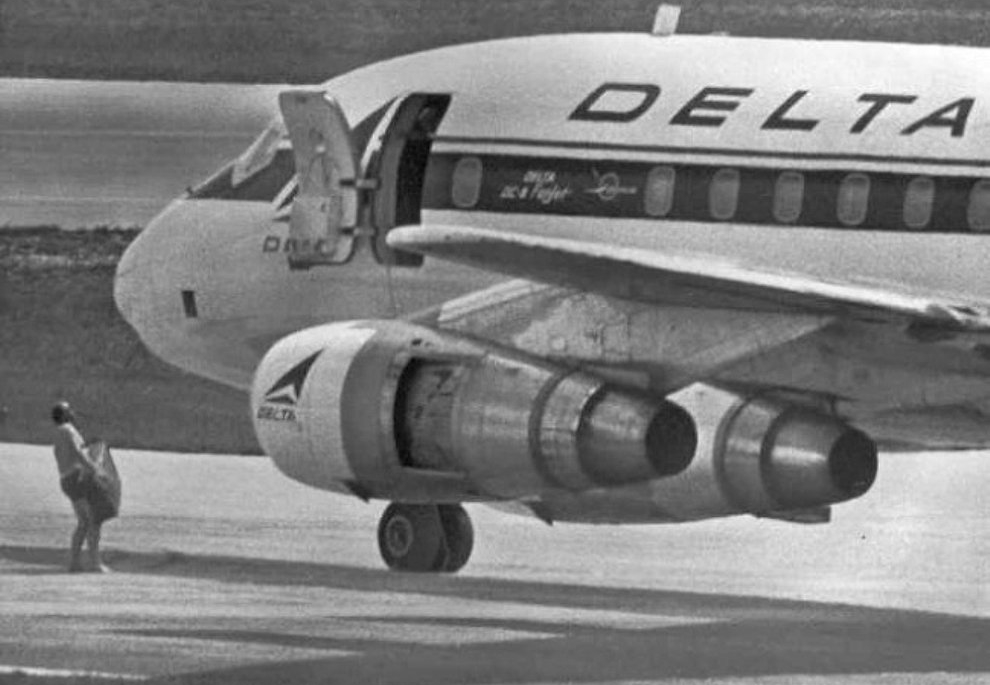 The scene in the photo ended the drama of the airplane highjacking. It all happened on July 31, 1972, when a Delta Airlines passenger plane, Flight 841 Detroit – Miami, was seized by members of the Black Liberation Army (in other words, terrorists). There were five terrorists in total (plus three children). There were 94 civilians and seven crew members on board. Terrorists captured the Delta airplane shortly after it took off. It was a terrorist's classic: criminals hide the gun in the Bible with pages cut out under it.
Despite the hijacking, the airplane landed in Miami right on schedule. The terrorists freed 86 people. Remaining passengers and crew flew to Boston then. This photo was taken in Boston.
When Airplane highjacking goes right
The terrorists did not plan to stay in the United States. Algeria was their destination point. They demanded to refuel, provisions, and a million dollars in cash for this long-distance flight. Terrorists got what they wanted in Boston. In the photo, we see how engineer Ronald S. Fudge carries a suitcase with money and provisions to the plane. He had to wear underpants only so that the terrorists can see that he has no weapons). Ronald boarded a plane and flew with the terrorists and crew to African shores.
An Algerian story
Terrorists released the plane In Algeria. The crew flew back to the United States (a long hard day, indeed), while the terrorists were taken into custody. However, they were released in a few days. Relations between the United States and Algeria hit bottom in 1967 after the Arab-Israeli war. Here's why local authorities considered that hijacking an American plane was not such a crime.
Justice will come
And yet, justice was done: in 1976, four out of five terrorists were arrested in Paris. Justice reached the fifth in 2011 when he was visiting Portugal.
By the way, capturing hostages was the most popular type of terrorist activity in the 1970s.