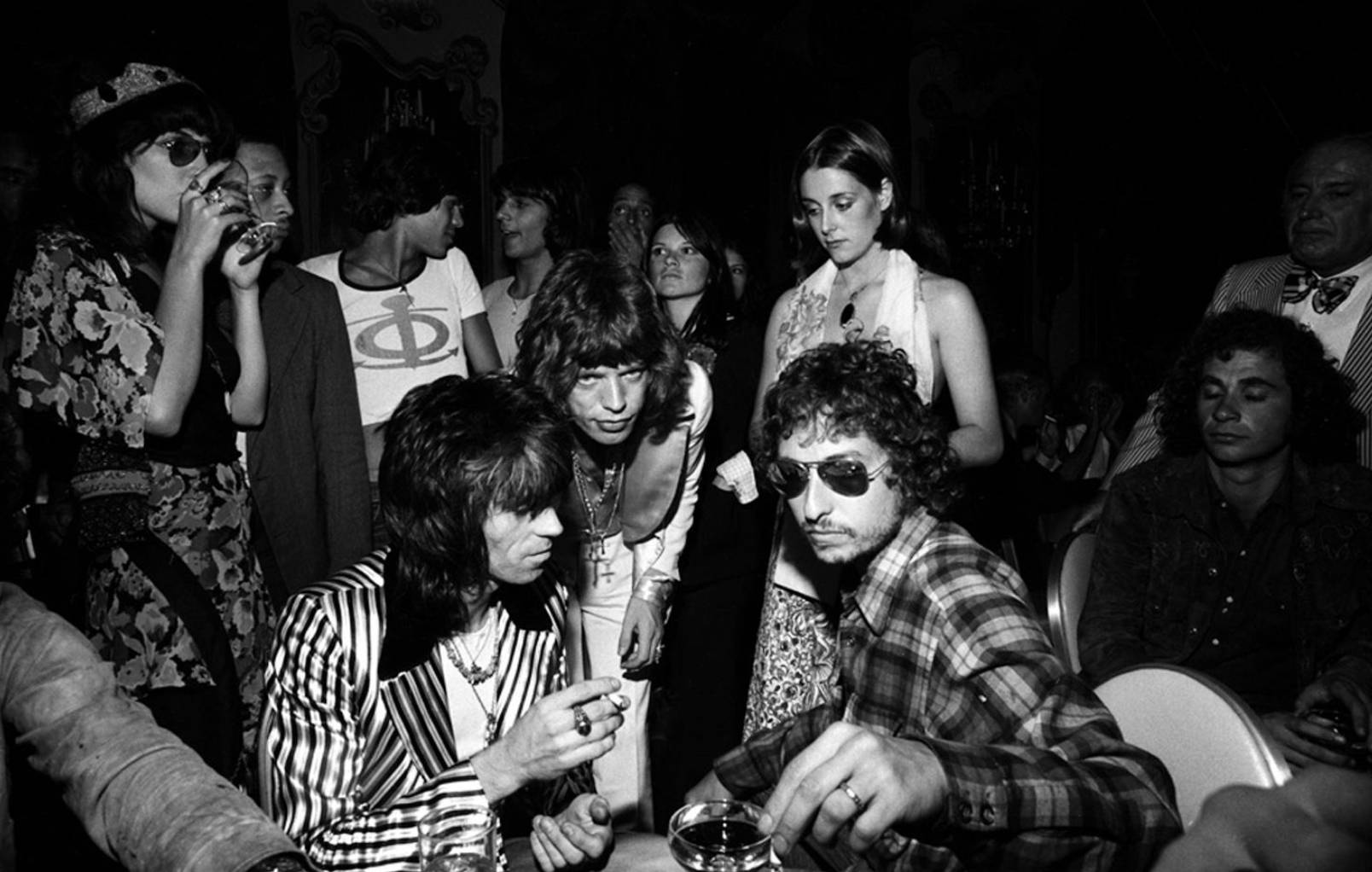 Mick Jagger's party at St.Regis Roof made some noise back on July 26th, 1972, and was covered even by the New York Times paper. Keith Richards and Bob Dylan are on this photo too, but they were not the only celebrities present at this party. The guest list consisted of various celebrities of that time: Zsa Zsa Gabor, Steve Wonder, Andy Warhol, Huntington Hartford, George Plimpton, Diana Vreeland, Oscar de la Renta, Clyde Newhouse, Tennessee Williams, Woody Allen, Andrea Portago, Mr. and Mrs. Winston Guest and Mrs. Jacob K. Davits. Whom else do you need to make this Mick Jagger birthday photo commandable for history book?
The party was a finalizing accord to Stone's performance on Madison Square Garden on that day. This concert was the last one in the big US tour of the band. The popularity of the Rolling Stones was so huge that the crowd paid around $3 million dollars to attend this final event.
Read more: Rock music photo history of 60s in 33 pictures
Jagger's birthday party was brought by Ahmed Ertegun, president of Atlantic Records – company that was selling band's records in the US, and thus made a lot of money with their music.
Mick and his wife Bianca arrived at 2 A.M.: they brought a gorgeous 5-foot cake, a second sweet of the day (the first one was presented to the crowd during the concert). There were some more pictures besides this Mick Jagger birthday photo but none survived to our day.
Insiders claim that all expenses of that concert and the party came to $800,000. Now take $3‐ million revenues, and The Rolling Stones had to divide $2 million among the band, 14‐ man technical crew, musicians, stagehands, business representatives, and the rest of their entourage. Not bad, taking to account that in the early 70s houses cost much less than today.
Read more: Rock bands photos before they became popular