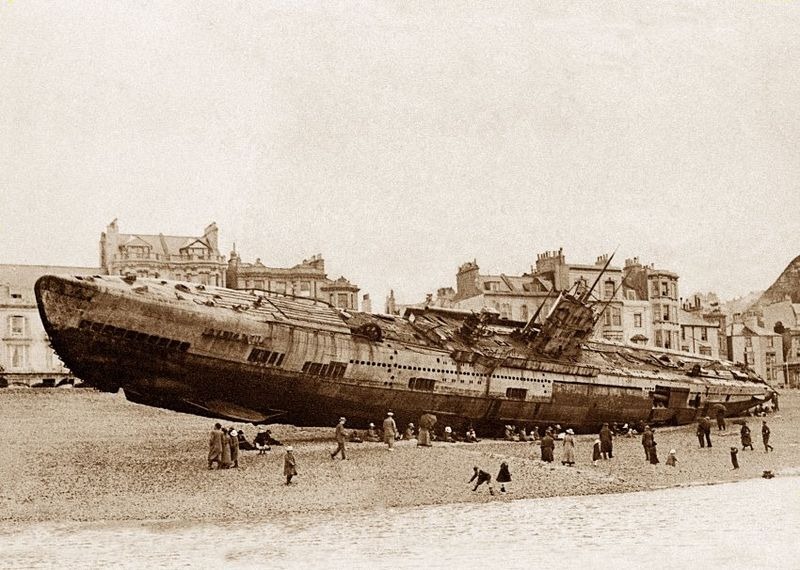 The German submarine SM U-118 barely participated in WWI. It touched the Baltic waters in February 1918 and had a short but bright life. This German submarine managed to make one effective appearance during WWI's sea battles and sink two ships of the Entente. 
After the end of the war, France took control over the SM U-118. Nonetheless, U-boat didn't reach the French shore. While a French ship was towing it, the cable broke, and the boat was carried to the beach near the British resort of Hastings.
As you may guess, the WWI German submarine's appearance on the beach of a small brit town was a major event for locals. So the boat became the main city attraction. The local authorities even organized paid excursions inside the sunbathing submarine. Army engineers dismantled U-boat only in 192. But the residents of Hastings still store various parts of the SM U-118 in their houses. Well, some submarines, like this Soviet one,  live a really bizarre life. 
The crucial role of the German submarines in WWI
Submarines were the deadliest weapon in the Germans' hands. Their submarine was much more advanced than the ones used by Entente forces. The typical U-boat was 214 feet long, carried 35 men and 12 torpedoes. It could stay underwater for two hours, but its speed and maneuvering were limited. Those submarines caused significant damage to British and French fleets during the first period of WWI.
In May 1915, several New York newspapers distributed a notice by the Germany officials.  It literally warned Americans not to travel to the UK as it was under the blockade. Interestingly, the statement shared the same newspaper page with an advertisement for the British-owned Lusitania ocean liner's coming voyage from New York to Liverpool. On May 7, the WWI German submarine sank the Lusitania near Ireland. Of the 1,959 passengers, 1,198 were killed, including 128 Americans.