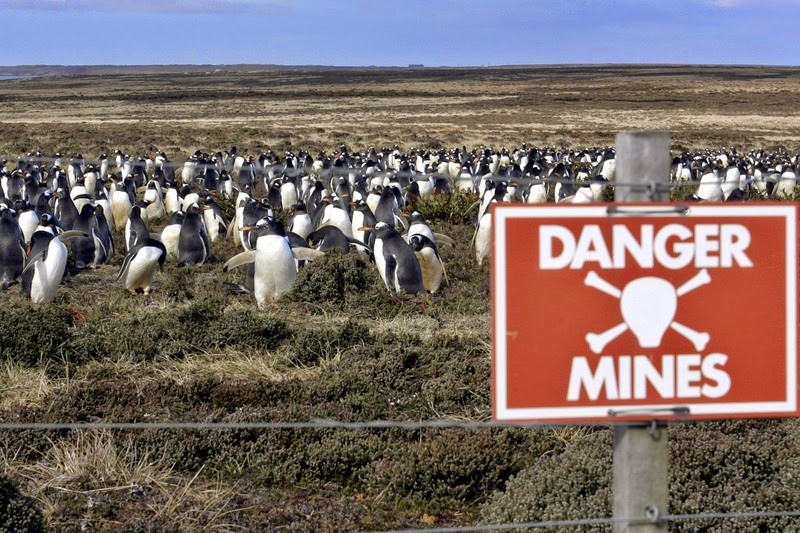 If the Falkland island penguins read the Minefield sign, they wouldn't start this party here. Yes, it seems like PETA activists don't teach penguins to read?
This picture is quite old, but, believe us, there are not so many photographers in this world who want to take pictures of penguins in a Falkland island minefield. And yes, some of those who tried it got to the better world, probably.
Far Falkland island
Where should we start: with history or geography? So, there are thirteen Falkland Islands, but only two of them are populated. Almost all of the 2800 locals live in the town of Port Stanley. This picture of Falkland island minefield and penguins was taken quite nearby.
How to turn the penguins land into the minefield
In 1982 the government of Argentina was looking for some option to regain its popularity among the voters. Numerous military coups and the economic crisis weakened the country, and a prompt military campaign looked like a viable option. They decided to capture the British Falkland Islands while the Iron Lady, Margaret Thatcher, was a prime minister in the UK. Not the best idea to reclaim this worthless patch of mud in the middle of the ocean. The Brits won, and after three months, the Argentine troops surrendered. All that they left for locals was a minefield. 
Argentina planted about 25 thousand mines, and demining was almost impossible due to the soil and landscape's peculiarities. But the animals benefited from mines since people do not prevent them from breeding here. The rare case when animals are happy with what people's armies do.