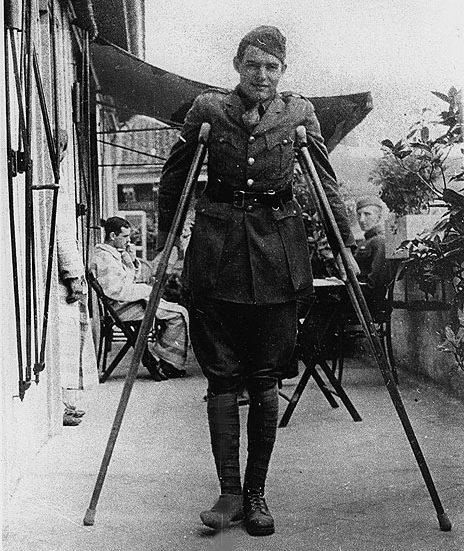 An unknown cameraman captured Ernest Hemingway during rehabilitation after his injury in WW1. A young writer couldn't stand on his legs in a Hospital of Milan after the mortar fire wounded him.
Ernest Hemingway participated in WWI as a volunteer. Writer's war history didn't mean to be heroic as he served in Italy as an ambulance driver with the American Red Cross. In June 1918, while operating a mobile kitchen distributing chocolate and cigarettes for combatants, he was wounded by an Austrian shell explosion. "Then there was a flash, as when a blast-furnace door is twirled open, and a cry that started white and went red," Hemingway recalled his injury in a letter home.
Hemingway ignored his wounds and transported an injured Italian officer to safety. He caught another bullet from the machine-guns while doing this heroic deed. Later Hemingway got the Silver Medal of Valor from the Italian Ministry of Defence for this historical episode.
How Hemingway recuperated after injury
Hemingway spent over a year in Europe but he fell in love with the Old Continent. He visited many European countries later, including Italy, Spain, and France, looking for inspiration and new characters for his books.
Hemingway remembered those events later in Men at War: "When you go to war as a kid, you have a high illusion of immortality. Other guys get killed; not you. . . . Then when you catch your bullet for the first time, you lose that illusion, and you know it can happen to you. After being severely wounded two weeks before my nineteenth birthday, I had a bad time until I figured out that nothing could happen to me that had not happened to all men before me. Whatever I had to do, men had always done. If they had done it, then I could do it too, and the best thing was not to worry about it."
Rehabilitation took long six months in a Milan hospital. During that period, Hemingway fell in love with Agnes von Kurowsky, an American Red Cross nurse. The rumor has it that this Hospital of Milan was full of wine and cats, and injured soldiers spent their time with pets. Who knows, maybe those six months made Ernest Hemingway a famous cat-lover. This romantic event completed the transformation of Ernest Hemingway from a young boy from Oak Park, Illinois, to a different, adult man. WW1 granted him invaluable life experience that included combat and love. Changes in his character were exciting.