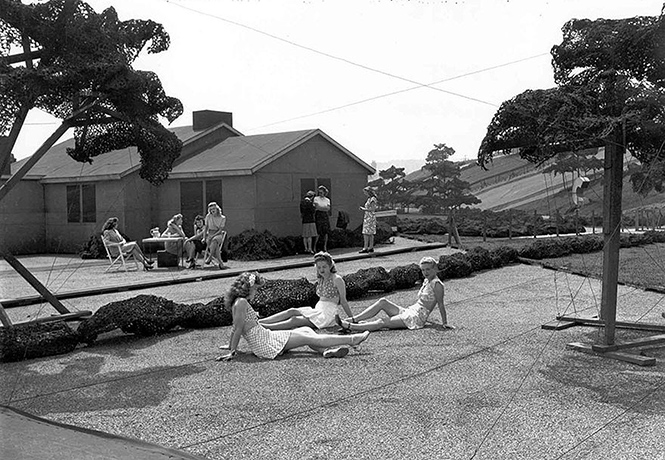 It's hard to believe that you see a disguised Boeing aircraft factory during WWII. But that's what we have: smart company owners hid the giant operating plant from the Japanese. Take a look at the whole picture.
The girls in the picture are real; everything else is not.
During the harsh starting year of WWII, Boeing's Seattle factory set up an in-line production of B-17 bombers for the army. At the same time, it was a high threat to Japanese raids. How are you gonna protect this massive object?
How to hide a Boeing Factory?
But if you're an aircraft manufacturer who wants to construct a B-17 when it's quiet, you have to have a brilliant idea. For example, to invite Hollywood decorators to the plant so that they would build something delusive. Let's say a fake sleeping town. Film design specialist John Stuart Detley coped with the task. His team constructed a whole town with houses, streets, trees, and even fake cars. The city had to dismantle this urbanistic beauty after Japan's surrender.
Just imagine: thirty thousand people worked daily under fake city cover, assembling three hundred bombers every month! Take a look at the photos of the phenomenal Hollywood military project of the disguised Boeing factory. The nuances are interesting too: for example, trees in the city are smaller than a person. Cars do not look real at all. But it was enough to deceive the Japanese pilots who were in the clouds.
WW2 Pacific battles in brilliant pictures by W Eugene Smith